Shahi tukra or shahi tukda, a mughlai recipe, are actually shahi – royal. You wouldn't think that a dessert so rich, delicious, yet simple can be made using bread. There's milk, dry fruits, saffron, sugar, and malai. We bring you shahi tukra recipe – a dessert that is said to have its roots in Pakistani cuisine!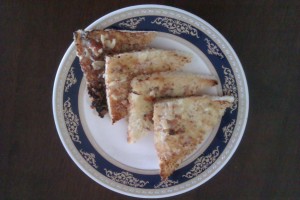 Ingredients:
8 slices of bread, halved
4 and half cups of milk
3 tbsp condensed milk
1 tbsp sugar
3 cardamoms
Pinch of saffron
Pinch of grated nutmeg
50 – 70 grams coarsely ground almonds and pistachios
Butter for frying
Method:
1. Halve the bread slices into triangular shapes. Apply a little butter on each and fry till crisp and golden brown.
2. Boil the milk, stirring it constantly. Add the condensed milk, cardamom, and sugar. Heat until the milk has reached half of its original volume.
3. Add the nutmeg, saffron, almonds, and pistachios. Once the milk has slightly thickened, keep it aside and allow to cool.
4. Place the bread slices in a serving dish. Pour the flavoured milk over the slices, and allow to soak.
Serve.
Note: I love using malai (clotted cream) in the milk. Slightly high in calories, but adds to the richness of the dessert!