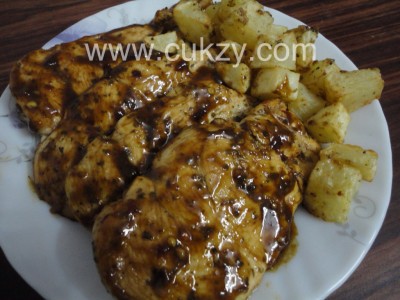 Ingredients:
For the chicken:
4 chicken breasts
4 cloves of garlic
2 tbsp olive oil
Salt to taste
For the Sauce:
2 cloves Garlic
1 tbsp celery, chopped
5 – 10 Thai basil leaves (can be substituted with tulsi)
5 bird's eye chilli
2 tbsp oyster sauce
1 tbsp soy sauce
1/2 cup stock
Method:
1. Wash and pat dry the chicken breasts. I prefer halving them lengthwise.
2. Heat oil in a grill pan. Add in the garlic and shallots. Saute for 2 – 3 minutes. Add the chicken breasts and cook for about 10- 12 minutes. Flip side only once.
3. Prepare the sauce. Heat the olive oil in a skillet or a wok. Saute the garlic, basil, celery, and chilli.
4. Add in the oyster sauce and soy sauce. Season and pour in the stock.
5. On low flame, reduce the sauce till thick.
Serve the chicken on a platter. Glaze the chicken by pouring the sauce over it. I served it with some crispy potatoes.