Prawn shells!!! Not edible but definitely can be used as main ingredient in cookery. Sometimes, people think chefs are insane. Surely this statement would add on to some more fans to that club, but chefs are half doctors too. Prawn shells have great medicinal value as they help in fighting cholesterol levels. So, today, let's learn how to effectively use shells to make a very rich creamy soup and have a healthy heart. Here's 'Shell Bisque' for you!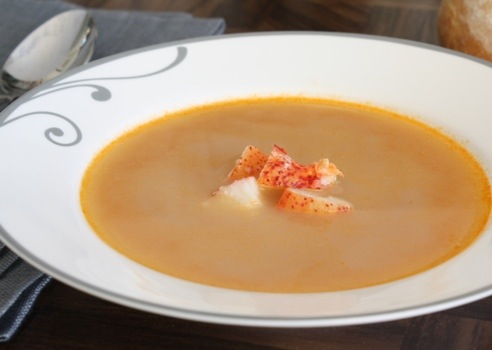 Ingredients:
Lobster or Prawns Shell (Including Head) 500gm
Carrots 50 gm
Onions 50 gm
Leeks 50 gm
Celery 50 gm
Tomato 4 no's
Tomato Paste 2 Tbsp
Garlic 6-8
Rosemary 1 stick
Thyme 2 stick
Oil 40 ml
Flour 50 gms
Butter 200 gms
Whipping Cream 30 ml
Method:
Wash the shells nicely, and strain the water.
In a oven at 200 degree temperature, roast the shell till crisp and red color is obtained.
Heat oil in a pan and, when hot, add mirepoix (Onion Carrot & Celery), leeks & garlic (all roughly cut), season & roast till dark brown colour is obtained.
Add in flour and roast till flour is cooked properly.
Add in herbs and tomato paste. Continue to roast till tomato paste starts to give out its aroma.
Add in the shells, and crush them, add vegetable stock, and tomato.
Cover and cook till it boils. Once it boils, open the lid and allow to simmer on slow flame for an hour, till the soup extracts all the flavors of the shells.
Lastly, add in the 150gm butter and cook for few minutes.
Remove from fire & blend along with the shells and strain using a fine strainer. Strain the soup two times or more if required.
For serving add in remaining butter and finish with cream, adjust seasoning.
The consistency of the soup should be slightly thick.