Present these cheese samosas to food lovers and they are over in a minute! A heavenly combination of crispiness and melted cheese. Cheese samosa is a famous iftar recipe as well. The tricky part of preparing this is the duration of frying the samosas. The frying time should not exceed 2 – 3 minutes since the cheese is likely to burn or ooze out of the samosas. My brother's favourite and a delicious passed-on recipe by my mom 🙂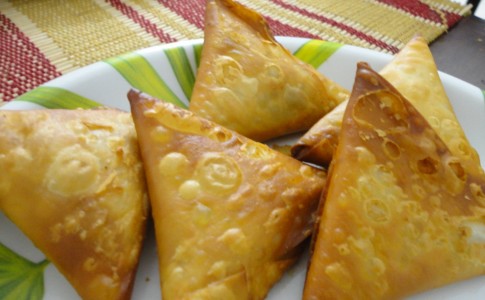 Ingredients:
For the samosa covers:
1 cup maida
Water to knead
2 tbsp oil
Salt to season
For the Stuffing:
200 grams cheddar cheese, grated
1 tsp black pepper
1 tsp coriander leaves, chopped
2 green chillies, deseeded and finely chopped
1 tsp garlics powder (optional)
Salt to taste
Method:
1. Add the oil, and salt to the flour. Add water, little at a time, and knead a dough. Cover the dough with a muslin cloth or plastic wrap and keep aside for half an hour.
2. Make small, equal-sized balls, and roll them into a circle. Cut each circle into a half.
3. Mix all the stuffing ingredients in a bowl. Take one corner of the half circle, and roll it inwards to form a cone. Fill in the cone with the cheese stuffing.
4. Fold the cone to seal the stuffing. Seal the top of the cone with the other corner, and fasten using flour paste (2 tbsp flour mixed with some water to make thick paste).
5. Deep fry the samosas. Ensure that the oil is hot before you start frying, as the cheese can ooze out of the samosas if over fried.