While piccata is an Italian word, chicken piccata is a famous dish across the West. Here is a chicken piccata recipe that deserves to be on your table for a Continental dinner. Chicken piccata serves well with tomato-based sauces and BBQ sauce. I've shared homemade BBQ sauce recipe earlier. Coupled together, chicken piccata and BBQ sauce make the perfect weekend dinner.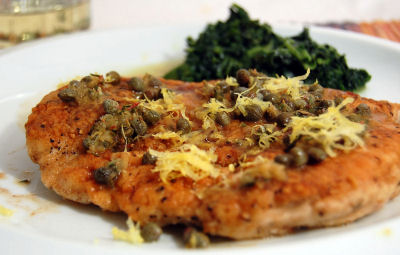 Ingredients:
2 chicken breasts
150 ml milk
100 gm parmesan, grated
150 ml egg, beaten
1 tbsp, parsley chopped
Salt & white Pepper powder
Method:
1.       Split the chicken breasts in 2 or 3 horizontally.
2.       Season with salt and pepper.
3.       In a mixing bowl mix the milk, cheese, and egg. Avoid lumps. Consistency must be smooth. Add in the parsley. Season.
4.       In a hot pan add oil, dip the chicken breast in the batter, and sear it.
5.       In a oven tray place the chicken breast. Cook for 7 minutes at 180 degrees.
6.       Remove and serve with lemon and BBQ Sauce.