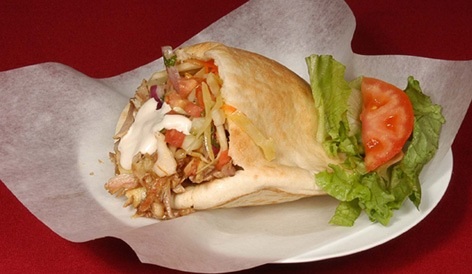 The most favourite street food from the Middle East can now be made at home! Cukzy brings you home-made shawarma recipe. Here is a spicy variation. Enjoy!
Marinate:
1 chicken breast piece
1 teaspoon cumin powder
2 teaspoon paprika powder
1 teaspoon black pepper powder
Salt to taste
Salad:
Half an onion
Half a bunch of parsley
1 teaspoon lime juice
Sauce:
1 cup sour cream or yogurt
1 teaspoon vinegar
1/4 cup grated cucumber
Salt and black pepper to taste
Method:
1. Cut the chicken breasts into medium-sized pieces and fry them on a non-stick pan in a tablespoon of olive oil. Avoid crowding the pan at once, since this would steam the chicken instead of frying it.
2. Brown carefully on both sides. This may take a little while.
3. Meanwhile prepare the salad. Thinly slice the onions and separate the rings. Add in the chopped parsley.
4. Season the salad with salt, pepper, and lime juice.
5. Once the chicken is golden-brown on both sides, remove from pan. Cut it as finely as possible, length-wise.
6. Mix all the sauce ingredients in a bowl.
7. Arrange the shawarma. In a pita bread, add the meat, salad, and sauce. You can also serve the shawarma with turmeric rice.