Katayef or Atayef are stuffed pancakes originating from the Middle East and Mediterranean regions. Katayef is a famous dessert with a rich filling of cream or custard with nut and is traditionally served in Ramadan. Katayef is similar to the usual pancakes, except that it is cooked only on one side and uses yeast. The recipe for this divine dessert is simple though time-consuming. But the effort is all worth it. The katayef is tender and fluffy, the custard is thick and creamy, and the nut-filling is crunchy. The syrup gives this dessert a perfectly balanced taste and texture. I was struggling to find a recipe that could give me the Katayef I had tasted when I was in Bahrain. I finally found this to be the best – a combination of a couple of recipes. I've written the ingredients and method together under different steps for you to understand better, since the recipe is slightly longer.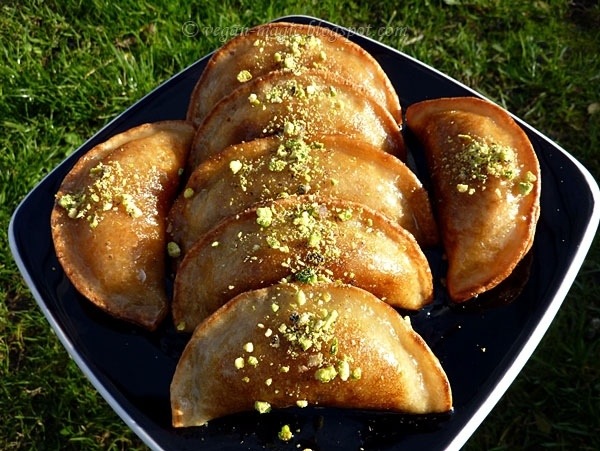 Step 1: Ashta/ Custard filling
2 cups milk
3 T. sweetened condensed milk
1/3 cup plus 2 tsp. cornstarch
1/2 cup water
1 T. rose water
1. To make the ashta, add the milk and condensed milk to a saucepan and heat over medium-high heat, stirring occasionally so it doesn't burn.
2. Meanwhile, mix together the cornstarch and water until smooth. When the milk mixture starts bubbling, whisk in the cornstarch slurry and keep whisking until very thick. Remove from the heat and whisk in the rose water.
3. Pour into a bowl and top with plastic wrap, pressing the wrap to the surface of the custard. Cool completely and refrigerate until the custard is firm.
Step 2: Pancakes
1 1/2 cups all-purpose flour
1/2 tsp. instant or rapid-rise yeast
1/2 tsp. baking powder
1/2 tsp. sugar
1 3/4 cups milk
Non-stick spray or butter, as needed
1. To make the pancakes, mix together all the dry ingredients in a bowl and then whisk in the milk. Set the mixture in a warm place for 1 hour.
2. Heat a large non-stick skillet or griddle over medium to medium-high heat. Lightly grease the pan as needed.
3. Add 2 tablespoons of the batter to the pan to form 3 1/2-inch circles. It should spread out on its own. Cook the pancake on one side only. Bubbles will rise to the surface. When the top is dry and the bottom is golden, the pancakes are done. Don't flip them. Set them aside.
Step 3: Syrup
1 1/4 cups sugar
3/4 cup water
1 1/2 tsp. lemon juice
1 tsp. rose water
1. To make the syrup, add the sugar and water to a saucepan and heat over medium-high heat, stirring occasionally. When the mixture boils (and becomes transparent), add the lemon juice and slightly lower the heat to maintain a gentle boil.
2. Cook for 4 to 5 minutes longer to thicken it slightly. Remove from the heat and mix in the rose water. Set aside.
Step 4: Filling
1/2 cup finely ground almonds, walnuts, pistachios, hazelnuts
2 Tb sugar (you can omit it, since they are eventually drenched in syrup)
1 tsp cinnamon powder
1/4 tsp nutmeg powder
1. Mix the ingredients well. Hold one cake in your palm and put about one tablespoon of the filling in the middle. With your other hand, start from one end and pinch the edges together to form half moons. Make sure they are properly sealed.
Step 5: Frying
1. Deep-fry the katayefs for about a minute until crispy and golden brown. They burn fast so be careful. Remove on paper towel.
Step 6: Serving
Soak the Qatayef in syrup for a few seconds, drain excess syrup and serve topped with ground pistachios. The syrup is absorbed faster if hot cakes are dipped in cold syrup or vice versa. Spoon some custard on to the Katayef and indulge!!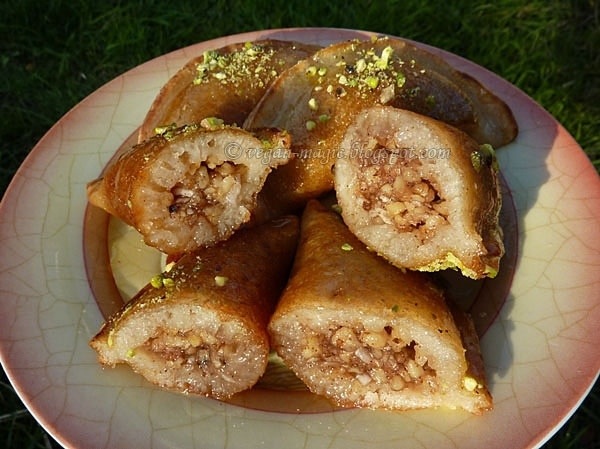 photo courtesy: vegan-magic.blogspot.in