When there are mangoes around, you have to bring it on the table in every way. Mango salsa is a popular Mexican appetizer. Here is an easy mango salsa recipe to go with your evening snacks – an appetizer your kids would love. Mango salsa is a refreshing combination of fruit and chillies. Enjoy this mango salsa recipe by our Chef!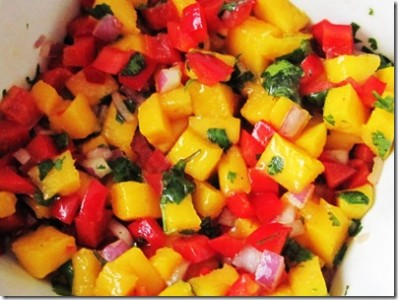 Ingredients:
2 mangoes
1 onion
1 long red chilli, deseeded
2 lemons
Few sprigs of coriander leaves
Caster sugar (as per sweetness)
1/4 cup olive oil or more if required
Salt to taste
Method:
1. Cut the mango, onions, and chilli into cubes (brunoise).
2. Chop the coriander.
3. Add the mango, onion, chilli, and coriander in a mixing bowl. Add the olive oil, sugar, and salt. Mix well.
Serve the mango salsa chilled.