Paneer recipes are rich vegetarian resort to a meal. Paneer tikka masala is a simple vegetarian recipe that has beautiful colours, rich texture, distinctive aroma, and a divine taste. Paneer tikka masala tastes even better with home-made paneer. The tikka masala can be used for other ingredients as well like chicken. Here is a paneer recipe that will leave your diners licking their fingers.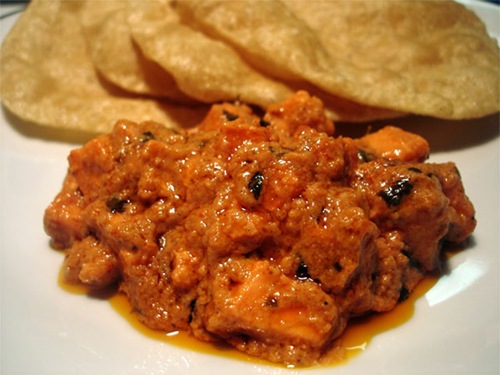 Ingredients:
For marination:
250 grams paneer, cut into cubes
100 grams curd, beaten
1 tsp ginger-garlic paste
1 1/2 tsp red chilli powder
1 tsp lemon juice
Salt to taste
For the gravy:
1/2 tsp cumin seeds
2 onions, chopped
2 tomatoes, chopped
1/2 tsp red chilli powder
1 tsp coriander powder
Pinch of turmeric powder
1/4 tsp garam masala powder
1 tbsp fresh cream
Salt to taste
Method:
1. Mix lemon juice, ginger-garlic paste, chilli powder, curd, and salt in a bowl. Add paneer and marinate for half an hour.
2. Blend tomatoes and onions together in a food processor.
3. In a pan, heat oil. Add in cumin seeds and saute till they crackle.
4. Now add the tomato-onion paste, along with salt. Saute till oil separates.
5. On low heat, add all spice powders and saute.
6. Once the sauce thickens, add in the paneer along with the mixture. Cook for ten minutes, without stirring and on low heat.
7. Add in the fresh cream.
Your paneer tikka masala is now ready to serve.
Note:
1. Alternatively, you can fry the marinated paneer cubes separately or bake it in the oven. Add the cubes once the masala is cooked.
2. You can also use a dash of tandoori masala ( I prefer Everest tandoori masala) to spice up the gravy.