Everyone wants to experiment with new kabab recipes especially chicken kebabs. Bihari Chicken Kebab is well-known in North India and Pakistan. Bihari Kebabs are soft, succulent, and perfectly blended in spices. The best part of this recipe is that you don't need an oven or grill to prepare this dish. Unlike in BBQ, tawa fry kebabs retain the masala, which make the dish deliciously moist instead of completely dry (like Seekh Kebabs). To give it the charcoal aroma, there's a technique you'll love. Just look at the end of the recipe 😀 🙂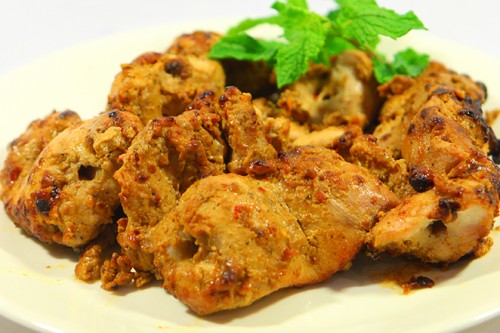 Ingredients
Chicken / Mutton cubes ½ kg
Oil ½ cup
Ginger garlic 1 tbsp heaped
Yogurt ½ cup
Garam Masala Powder 1 tsp heaped
Raw papaya 1 tbsp heaped
Chili powder 1 tsp
Salt 1 tsp heaped
Roasted and crushed cumin 1 tsp
Coriander seeds 1 tsp roasted and ground
Poppy seeds 1 tsp roasted and ground
Roasted gram 1 tsp
Method
Marinate the meat cubes with raw papaya and oil for 1 hour. Then add in all the above ingredients and keep aside to marinate for another hour.
Line the cubes on skewers. Heat ¼ cup oil on a flat pan or tawa and place the skewers on it. In case you don't have skewers, you can fry the cubes as it is.
Fry on low flame till done.
Light two pieces of coal and place in the center of the tawa. Pour a teaspoon of ghee on the coals and cover immediately. Let it rest for few minutes.
Serve with onion rings, lemon slices, mint leaves and chutney.