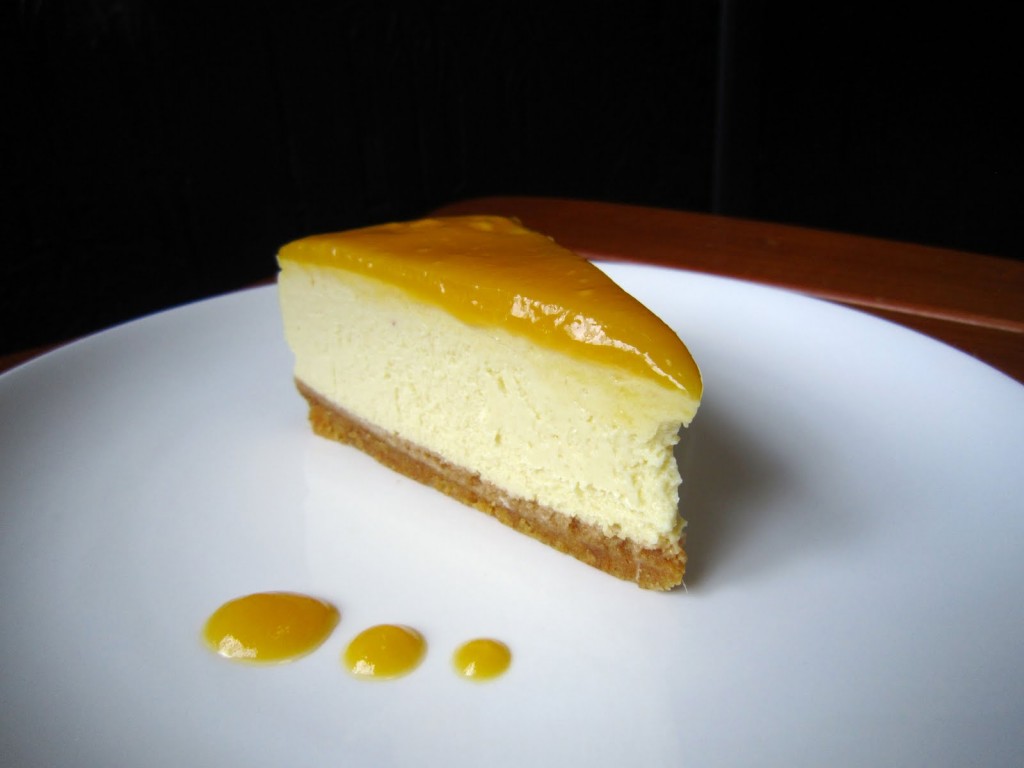 Who doesn't love cheesecakes? Amongst the various mango recipes on Cukzy, mango cheesecake is my personal favourite. This no bake cheesecake recipe is a little different from the conventional New York cheesecakes; perhaps slightly Asian. But we haven't compromised on the taste. This mango cheesecake is made with cottage cheese and china grass (replacing gelatin), with a fine shining mango glaze. Perfect ending to a meal.
Ingredients:
For Crust:
160 gm digestive biscuits, crushed and powdered.
100 gm butter.
For Filling:
160 gm or 1 cup powdered sugar
800 gm or 3 cups full cream yogurt
400 gm or 2 cups cottage cheese
1 ½ cup water
10 gm China grass
2 mangoes peeled, chopped and pureed
1 tsp vanilla extract
For the Mango Glaze:
1 mango peeled, chopped and pureed
2 tbsp water
2 tbsp sugar
1 tbsp lime juice
Method:
For the Crust:
Place the yogurt in cheesecloth lined colander over a container and allow to drain overnight to get half the quantity of thick yogurt (400 gm).
Take the crushed biscuits in a bowl and mix in the butter. Press this mixture into the base of a springform pan. Let it set in the freezer for 15 minutes or in the refrigerator for half an hour.
For the Filling:
Meanwhile, take the strained yogurt and cottage cheese in a blender and process til it becomes smooth and creamy. Transfer this into a mixing bowl.
Soak the china grass in 1½ cups water and keep aside for 10 minutes till it becomes soft. Transfer it into a saucepan and heat on low flame till it dissolves. In another saucepan heat the mango puree and mix in the china grass. Keep stirring.
Slowly add the mango mixture to the creamy one, stir in the sugar and vanilla extract and beat till well blended.
Pour this mixture over the set crust, level it with a spoon and refrigerate for an hour or two.
For the Glaze:
Cook all the ingredients together in a saucepan over medium heat for 7 to 8 minutes. Allow to cool at room temperature.
Spread it on the cheese cake with a spoon and refrigerate for another 2 to 3 hours before slicing.