Hummus is the most popular savory dish from Middle Eastern cuisine. Hummus is easy to prepare and pairs well with any food dish, especially kebabs and grilled dishes. Here is an easy hummus recipe made with the most basic ingredients – garbanzo beans, tahini, and olive oil. There are times when I don't have store-bought tahini on hand. If you are in that situation, don't sweat it. Preparing tahini is simple. All you need to do is blend toasted sesame seeds and olive oil till you have a smooth, pourable consistency. Try the Potatoes In Tahini Sauce recipe to add a variety to your table.

There are several varieties of hummus, thanks to creative foodies. Some of the favorites are spicy hummus, tzatziki hummus (here is the recipe for tzatziki sauce), hummus with zatar, hummus with grilled shredded meat, and hummus with pine nuts and parsley. This is the classic hummus recipe that's perfect for your pita bread, chicken shawarma, or falafel.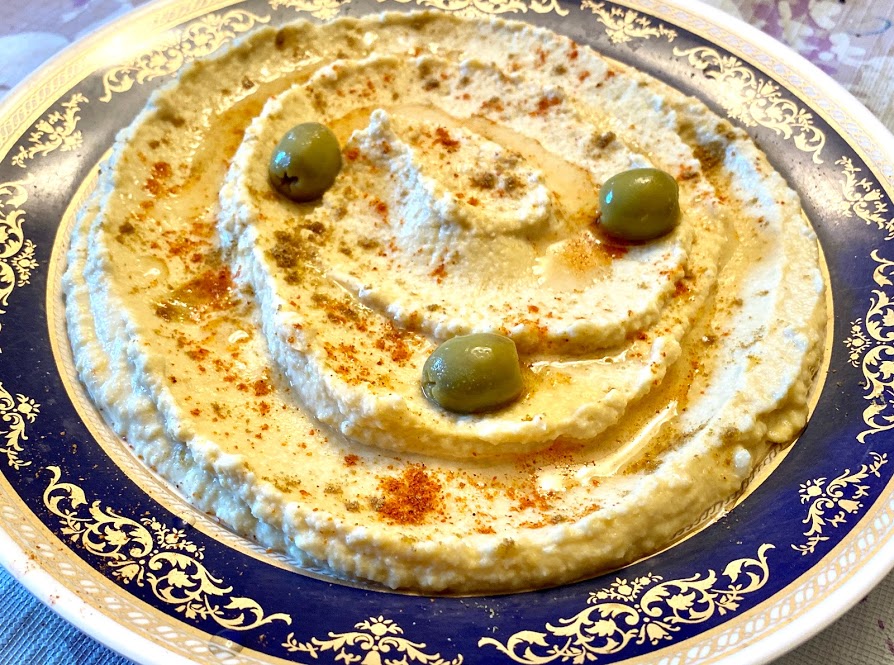 Ingredients:
425 grams chickpeas, also called garbanzo beans
1/4 cup fresh lemon juice, about 1 large lemon
1/4 cup tahini
Half of a large garlic clove, minced
2 tablespoons olive oil
1/2 to 1 teaspoon kosher salt, according to taste
1/2 teaspoon ground cumin
2 to 3 tablespoons of water
Dash of ground paprika for serving
Method:
1. In a food processor, combine tahini and lemon juice and process for 1-2 minutes. This helps "whip" or "cream" the tahini, making smooth and creamy hummus possible.
2. Add the olive oil, minced garlic, cumin, and the salt to the whipped tahini and lemon juice. Process for one minute.
3. Add the chickpeas to the food processor and process until thick and smooth. While processing, add in 2 or 3 teaspoons of water to smoothen the consistency.
Plate the hummus. Drizzle with a tablespoon of olive oil and garnish with olives. You can use chopped parsley, pine nuts, paprika, or toasted sesame seeds as well.