Pancakes are breakfast's best friend. Mango pancakes are the season's version of simple pancakes. They are also the best resort to preparing healthy snacks. Here is an easy pancake recipe with mango and cinnamon compote that I finished preparing in just half an hour. So, its quick verified!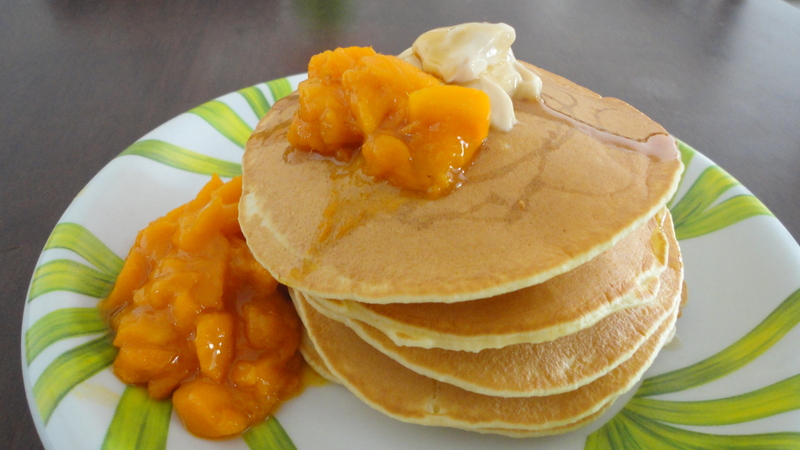 Ingredients:
For the pancakes:
2 eggs
1 1/4 cup milk
150 grams maida (all-purpose flour)
1/2 tsp baking powder
2- 3 tbsp sugar (depending on how sweet you like your pancakes to be)
1 tsp vanilla extract
2 tbsp butter
1/2 alphonso mango, small cubes
For the mango compote:
1 mango, finely chopped
3 tbsp sugar
1 tsp cinnamon powder
Method:
1. Except for the mango, mix all the pancake ingredients in a bowl. With a hand beater, beat well so no lumps remain. Keep aside for 15 minutes.
2. Meanwhile, prepare the mango compote. Add the chopped mangoes in a non-stick pan, along with the sugar and cinnamon powder. Stir on low heat.
3. You can add a teaspoon of water to allow the mangoes to soften. Simmer for about 15 minutes, stirring occasionally. Keep aside to cool.
4. To the pancakes batter, add the chopped mangoes. Give it another whisk.
5. Heat a flat non-stick pan. For pancakes to take the perfect shape, it's important that your pan reaches the right temperature.
6. Using a ladle, pour the batter in the center of the hot pan. Allow to cook for 2 minutes.
7. When you spot bubbles appearing as the edges become more firm, it's time to flip the pancake. Cook till brown on each side.
Your mango pancakes are now ready to serve! Dress it up with a dollop of cream and spoon of honey. Enjoy!