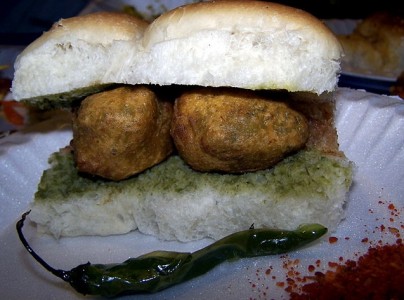 Mumbai's most popular snack, vada pav can now be cooked at home. Vada pav is one of the favorites of the people of Mumbai, served at every corner of the street and in restaurants. At Cukzy, we show you how you can relish that vada pav in the comfort of your home!
Ingredients:
125 gm potatoes boiled, peeled and mashed.
2 tsp oil
¼ tsp mustard seeds
1 small onion chopped
1 inch ginger finely chopped
¼ tsp turmeric powder
6-7 curry leaves
Juice of half lime
Salt to taste
1 ½ to 2 cups of gram flour (besan)
A small pinch of soda bicarbonate
1 tsp red chili powder
Oil for frying
3-4 lettuce leaves
½ cup hot coriander chutney
5 to 6 small plain buns
Method:
Heat 2 tsp oil and add mustard seeds. Then add onions, ginger and green chilies sauté for 2 to 3 minutes.
Add potatoes, turmeric and salt. Sauté for 2-3 minutes and add the lemon juice. Mix well and remove from fire.
Divide the mixture equally and shape into balls. Keep aside.
Mix the besan, soda bicarbonate, salt and red chili powder with enough water to make a smooth batter of medium thickness.
Heat oil in a wok. When oil is hot, dip each potato ball into the besan mixture, covering all side and deep fry.
Place them in between the buns with lettuce leaves and chutney.