Hot dogs are one of the favourite fast foods after burgers. Homemade hot dogs are especially succulent and well-seasoned. Here is one of the simplest hot dog recipes that can help you prepare a delicious evening snack or an easy dinner. I prefer homemade sauce for hot dogs, instead of readymade mustard sauce and barbeque sauce. You can also refer to our Chef's authentic recipe for homemade BBQ sauce.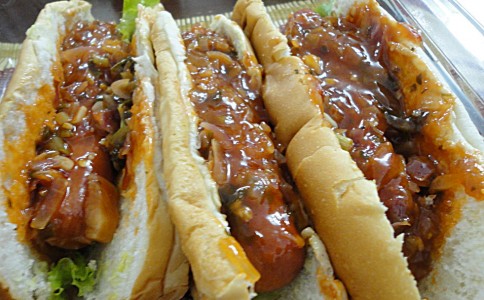 Ingredients:
4 sausages
2 tbsp olive oil
4 cloves of garlic, minced
1/2 onion, finely chopped
1 small tomato, finely chopped OR 3 tbsp ketchup
2 tbsp spring onions, finely chopped
1 tsp cilantro, finely chopped
4 to 5 lettuce leaves
4 hotdog buns
Method:
1. In a wok, heat oil. Add the garlic, onions, and spring onions. Saute for about 2 to 3 minutes.
2. Add in the tomatoes or the tomato ketchup. Add in the cilantro. Pour in a little water and allow to cook till the tomatoes have softened and the sauce becomes slightly thicker.
3. Place the sausages in the wok and allow to cook in the sauce for about ten minutes.
4. Meanwhile, place the lettuce leaves in the hot dog buns.
5. When the sausages are done, place the sausages in the buns and top it with the sauce.
Note: You can add a teaspoon of red chilli sauce t o spice up your hot dogs.