Here is a crustless quiche recipe you would relish. A quick fix for starters or even for a simple meal for two, a no-crust quiche uses all-purpose flour (maida) which helps to form a crust-like base to give the quiche a firmness and crunchiness. For my quiche, I've used pre-cooked minced meat (my favourite) with green peas but the ingredients can vary, the most famous being spinach and meat. This quiche recipe is not from the professional French kitchen! You can fill it up with your choice of vegetables and mushrooms for a vegetarian version.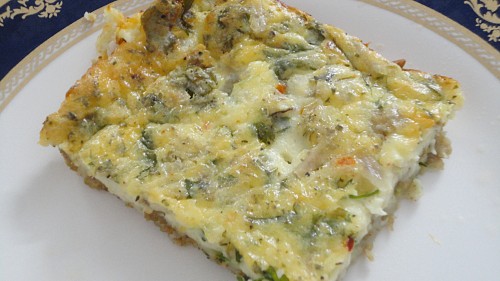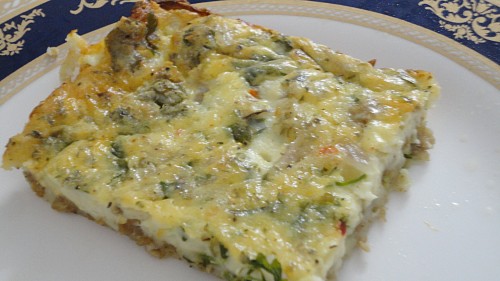 Ingredients:
250 grams minced meat
1 onion, chopped
4 eggs
1 1/2 cup milk
100 grams plain flour (maida)
A pinch of baking powder
100 grams grated cheddar cheese
20 grams grated mozzarella cheese
2 tsp black pepper
1/2 tsp garlic powder
1 tbsp coriander leaves, chopped
A pinch of cayenne pepper
Salt
Method:
1. Cook the minced meat first. You can fry the onions and the minced meat together, with some seasoning, till done. Alternatively, you can cook the onions and meat in water till all the water has dried. (I prefer the second option since I like my quiche without any oil).
2. Beat the eggs in a large mixing bowl. Pour in the milk and whisk. Now, add in the flour and baking powder. Mix well so no lumps remain.
3. Now add in the grated cheddar and mozzarella cheese. You can opt for feta cheese also if your watching the calorie content.
4. You can now add the minced meat and onion mixture, the coriander leaves, and the seasoning. Mix all the ingredients well.
5. Grease a baking dish and pour in the quiche mixture. Bake for about 25 minutes at 230 degress Celsius or till the center is completely done and the edges have browned.
Serve!