I love Chinese cooking. Here is my favourite Chinese recipe – chicken stir fry with vegetables! Stir fry recipes need very less oil, less cooking time and no spices, which means they qualify as healthy recipes. The herbs and sauces deliciously season the vegetables and meat, leaving your diners craving for more. For an enthusiastic at-home cook, a stir fry recipe can be exciting because of its cooking technique. Add the ingredients, toss the wok around, cover and cook for a few minutes, all on high flame – and the chicken stir fry is ready. Try this aromatic and palatable dish, and you'll know what I mean!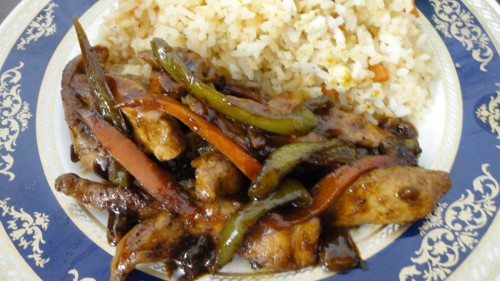 Ingredients:
300 grams boneless chicken, cut lengthwise
1 carrot, cut lengthwise diagonally
1 capsicum, cut lengthwise diagonally
2 baby corns, cut lengthwise diagonally
6 pods garlic, finely chopped
2 green chillies, diagonally cut
2 tbsp soy sauce
1 tbsp all-in-one stir fry sauce (I like Ching's)
1 tsp chilli garlic sauce (if you want your stir fry a little spicy)
1 1/2 tsp black pepper powder
1 tsp chilli vinegar
1/2 tsp sugar
3 tbsp oil
Method:
1. Heat oil in a wok. When hot, add in the garlic and green chillies. Saute on high flame for a minute.
2. As soon as the garlic seasoning releases its aroma, add in the chicken pieces. Stir fry on high flame till chicken is seared*.
3. Now, add in the vegetable and toss. Continue cooking on high flame.
4. Add in all the sauces and stir fry till the meat and vegetables are well-blended. Season with salt and sugar.
5. Cover and cook on low flame for about 5 minutes. The chicken will be juicy and would have absorbed the sauces well.
Note:
1. Keep all your ingredients handy. Once you start cooking a stir-fry, you need to add ingredients quickly.
2. If you want to turn the stir-fry into a gravy, add in the diluted cornstarch after step 4. Adjust the seasoning.
3.* Searing is to cook meat on high flame to give it a caramelized colour.
4. Chinese cooking technique of stir-frying is done on high flame. This technique allows the ingredients to release a strong aroma, and keeps the meat ingredients juicy.