Who doesn't love the grill flavour to food? Barbecue sauce adds that smokey tinge to meat, enhancing the flavours. As an easy option we resort to BBQ sauce available at supermarkets. How about trying it out at home? Learn how to make bbq sauce at home with this recipe, and you would detest trying the packed ones. This summer, add this barbecue sauce recipe to your BBQ weekend!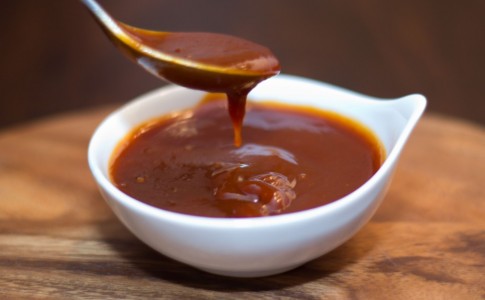 Ingredients:
Ketchup                             1 Ltr
Tomato                           ½ Kg
Pineapple                          ½ kg
Onion                                2 big
Garlic                                100gm
Orange Juice                     1 ltr
Tabasco                            50 ml
HP Sauce                          75 ml
Salt                                  
Brown Sugar                     250gm
Big fresh Red Chilli         250 gm
Smoke flavor                     few drops
Vinegar                                25 ml
Peppercorns, Bay leaves & Cloves tied in a muslin cloth (10 gms)
Method:
1.       Cut and roast the pineapple & onions on a grill or direct flame till nice colour is obtained (semi burnt).
2.       In a thick bottom pan, add oil and sauté the garlic. Add in the onions and the pineapples. Roast for a few minutes.
3.       Add in the sugar and caramelize it.
3.       Add in all the ingredients except smoke flavor. Also add in the tied dry herbs.
4.       Once it boils, keep on slow flame for 3-4 hours.
5.       Remove the bouquet garni (tied herbs).
6.       Add in few drops of smoke flavor.
7.       Remove and blend, adjust consistency with orange juice or juice and water
Notes : Bouquet garni is any combination of dry herbs used in cookery ( for BBQ only peppercorn, bayleaf & cloves are used)