Kabsa, or machboos, as is called in many Gulf regions, is a scrumptious combination of spices, meat, and rice. In some versions of the Kabsa, vegetables are also used. It would remind you of the Indian biryani. The biryani is derived from the Arabic Kabsa. Here is our Chef's recipe of preparing a delicious chicken kabsa!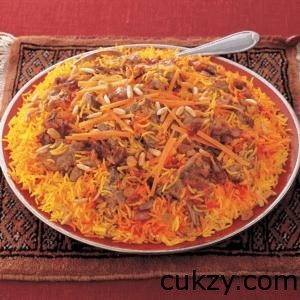 Ingredients:
Chicken 500 gms
Rice 500 gms
Tomato paste 1 tbsp
Fresh tomato 3-5 sliced
Onion 2, chopped
Garlic chopped 4 tsp
Ghee 3-4 tbsp
Bay leaf 3-4
Cardamom 6-7
Dry lime 2
Salt
Cumin powder 2 tsp
Fresh coriander 2-3 tbsp, chopped
Method:
1. Heat ghee in a thick bottom pan.
2. Saute the onion and garlic till light brown. Add the tomato paste and fresh tomatoes.
3. Now, add in the boneless chicken pieces. Saute and add in water or chicken stock.
4. Add all the whole and powdered spices.
4. Cook till chicken is tender. Add the chopped coriander and rice.
5. Reduce the water and cook covered on slow flame.