Chicken supreme is a recipe my mother learnt in a cooking class when she was younger. Thanks to that, I can now pass on this simple, and classic chicken curry recipe that is truly different. It's a heavenly combination of chicken with cream and pineapple syrup, spiced mildly. Enjoy making this easy chicken recipe!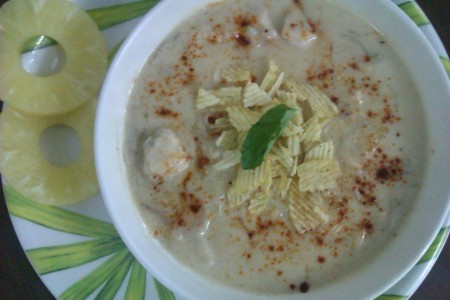 Ingredients:
500 grams chicken, washed and curry-cut
2 medium onions, sliced
2 to 3 green chillies, de-seeded and chopped
2-3 cloves of garlic, chopped
1 1/2 inch ginger, julienne
100 grams fresh cream
1 cup pineapple syrup (from a tin of canned pineapples)
1 cup water
3 tbsp oil (for the curry)
2-3 tbsp butter or ghee (for the cashew powder)
200 grams cashew nuts, powdered
Method:
1. Heat oil in a vessel. Add the chopped garlic, ginger, green chillies, and saute.
2. Add the onions and fry till transparent.
3. Now, add the chicken to the vessel. Mix well. Add in the fresh cream and pineapple syrup, along with water. Allow to cook for 15 minutes or until chicken is tender.
4. Meanwhile, in a pan, add the butter or ghee. When warm, add in the cashew nut powder and saute for a minute.
5. Add the cashew nut mixture to the chicken curry. Season with salt, and stir for 3 to 4 minutes. Chicken supreme is now ready.
Serve garnished with red chilli powder, crushed potato chips, and chopped coriander leaves.