Kabuli Pulao is Afghanistan's national dish, which I think is a perfect answer to Mughlai Biryani. In Afghan culture, Kabuli Pulao is a delicious 'must-be-served' food. Afghan cuisine isn't as richly spiced as Mughlai cuisine in Indian sub-continent, but is tastefully balanced. The main spices used to flavour the Kabuli pulao are garam masala and cardamom powder. Here, the garam masala includes cloves, bay leaves, cinnamon, and cardamoms ( again unlike Indian version which includes cumin sees and black peppercorns). I've already added this on my list of recipes for Ramadan this year. You can give it a shot too!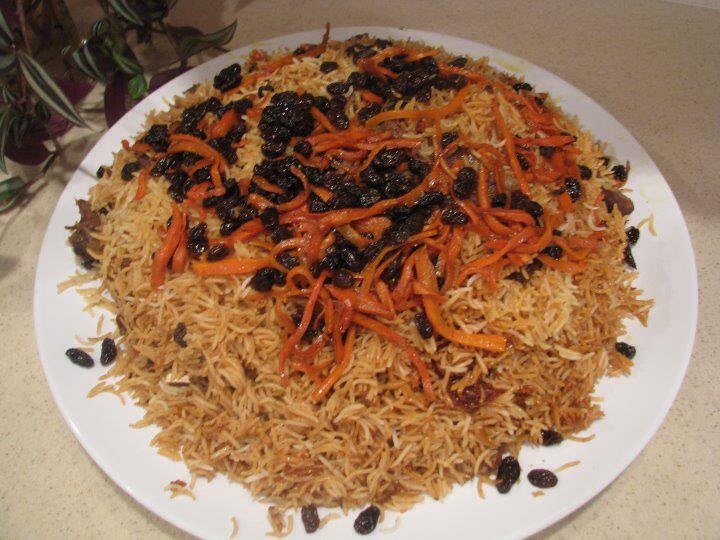 Ingredients
Step 1:
200 ml vegetable oil
1 onion, chopped
800 g lamb leg or shoulder, on the bone, chopped into 6 cm pieces
1 tbsp crushed garlic or garlic paste
2 tbsp salt
Step 2:
75 g (⅓ cup) white sugar
2 tsp garam masala (made from ground cloves, bay leaves, cardamom and cinnamon)
1½ tsp freshly ground cardamom
Step 3:
1 kg basmati rice, soaked in cold water for 2 hours
250 g carrots, peeled and cut into batons
75 g sultanas/ kishmish/ dried raisins
75 g mixed slivered almonds and pistachios, to garnish
Method:
1. Heat 50 ml of the oil in a large frying pan over medium heat and cook the onion for 6–8 minutes, or until golden.
2. Add the lamb, garlic and 1 tbsp salt and cook for 8–10 minutes, or until lamb is well browned on all sides. Add water and reduce heat to low and cook until lamb is tender. Skim the froth off the surface of the water occasionally. Remove lamb from pan and set aside. Reserve the stock.
3. Place half of the sugar in a hot, dry saucepan over medium heat. Cook, shaking pan, for 5–6 minutes or until sugar has caramelised.
4. Carefully add 250 ml (1 cup) of reserved stock, salt, 1 tsp of garam masala and a pinch of cardamom powder. Bring to the boil, then remove from heat and set aside.
5. Drain the soaked rice and cook in a large saucepan of boiling water for 5 minutes. Make sure the rice is only ALMOST cooked. Drain and return to pan.
6. Pour the caramelised sugar mixture over the rice, add a pinch of garam masala, and stir carefully and lightly, until rice is evenly coated.
7. Heat 1 tbsp of the oil in a frying pan over medium-high heat. Add the carrot and remaining sugar. Stir for 5 minutes, or until lightly caramelised and glossy. Add the sultanas (raisins) and cook for another 1 minute. Remove from the heat and stir in another pinch of cardamom. Set aside.
8. Heat 1 tbsp oil in a frying pan until smoking. Pour over the rice. Use the end of a large spoon to make holes through the rice to allow steam. Top with spiced carrot and lamb pieces. Cover and seal pan with a tea towel, then a lid to preserve the steam. Place over high heat and cook for 5 minutes. Reduce the heat to low and cook for another 10 minutes. Remove from the heat and leave, covered, for 10 minutes. Remove lamb and spiced carrots, and mix rice well.
To Serve:
Cover base of your dish with a little rice, place a layer of the lamb and then cover with remaining rice. Top with spiced carrots, then scatter with almonds and pistachios.