Nihari is the star of Mughlai cuisine after biryani. Nihari dates back to the Nawabi days and is cooked overnight for 6 – 8 hours. Nalli Nihari is a special version of the dish with the shank and bone marrow being its main ingredient. Nihari is a popular mutton recipe and uses a special Nihari masala which is readily available in the market. The traditional flavour, however, is in preparing the Nihari masala at home. Nihari is the national dish of Pakistan where it is a breakfast delicacy. As is with all historically royal dishes, Nihari demands considerable amount of time and effort. And, as is with all royal dishes, Nihari is deliciously worth the effort.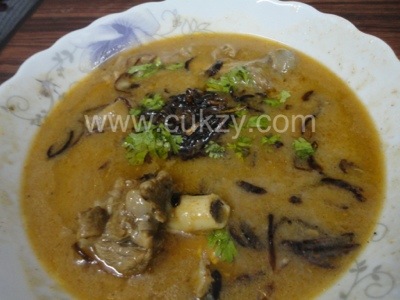 Ingredients:
Nihari Masala:
6 dry red chillies
2 tbsp cumin seeds
2 tbsp fennel seeds
1 tbsp cloves
3 green cardamoms
2 black cardamoms
12 black peppercorns
1 bay leaf
1 blade mace
1 tbsp dried ginger powder
1/2 tsp dried garlic powder
1/2 tsp nutmeg powder
2 1-inch cinnamon sticks
2 1/2 tbsp chana/gram dal
1 star anise
Roast the above ingredients till aromatic. Grind and sieve till fine powder. Store.
For the Nehari gravy:
500 grams mutton leg pieces on the bone/ shin-shank OR chicken
3 tbsp ghee/ clarified butter
2 1/2 tbsp Nehari Masala
2 – 3 tbsp wheat flour
1 onion, finely sliced
Method:
1. Heat the ghee in deep-bottom vessel. Add the mutton pieces and fry for about 5 minutes.
2. Add the Nihari masala and stir continuously till the masala and the mutton pieces have blended well. Stirring will prevent the masala from burning.
3. Add about 7-8 cups of water and cook on low flame till the mutton is well-cooked. You can use about 6 glasses of water if you're using a pressure cooker.
4. In another bowl, dissolve the wheat flour in water enough to make a moderately thick liquid. Make sure no lumps are formed.
5. Once the mutton has cooked, pour in the dissolved flour gradually while continuously stirring. Mix well for about 5 – 10 minutes till the gravy thickens.
6. Add the deep fried onions and cook for another 20 minutes.
Nalli Nehari is ready to serve! Nihari tastes best with naan. For a complete Nihari meal, serve chopped coriander leaves, finely sliced green chillies, grated ginger, and slices of lemon alongside for garnish as per taste.
Note:
1. Balance the cooking time according to the kind of meat you use – you can use chicken or boneless mutton/beef pieces (meat on the bone enhances the taste).
2. Mutton/beef pieces have to be very tender (melt-in-mouth) 🙂
3. Stirring is the key technique for this recipe. Make sure you do that well.