Here is a recipe with a U-turn. Idly is quite bland and is usually eaten with spicy chutney and sambar. Here, we've given the idly a Chinese touch. Chilly idli can be a perfect vegetarian snack to present to guests. You can easily chart out your own variation too.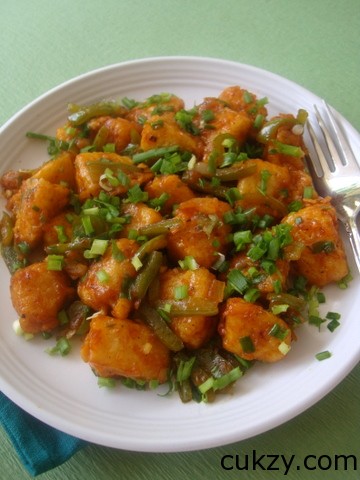 Ingredients:
4 Idly
1/2 capsicum
2 teaspoons garlic, finely chopped
1 tbsp tomato ketchup
1/2 tbsp chili garlic sauce
2 whole dried red chilies, crushed
2 tsp olive oil
Handful of spring onions, finely chopped (separate the onion bulbs and the onion sticks)
Method :
1. Fry Idli in a pan and keep it aside. When cool, cut the idly carefully into cubes.
2. In a pan add add the olive oil. Add in the chopped garlic and saute till its fragrant. Add in the chopped onion bulbs from the spring onions.
3. Add capsicum and saute for 2 minutes. Now, add a few spring onions.
4. Add all the sauces together. This should be done on high flame for all the flavors blend well. Be careful not to burn them, which would require continuous stirring.
5. Reduce the flame and add the idli cubes. Toss the cubes so that it is covered well in the sauce. Avoid using a spoon.
6. Add the left over spring onions and fry on low flame for a minute.
Chili idly is ready to serve!