Who says seekh kebabs can't be vegetarian? Vegetarians can enjoy a delicious version of veg-seekh kebabs. Grill on coal fire gives it the authentic seekh kebab touch.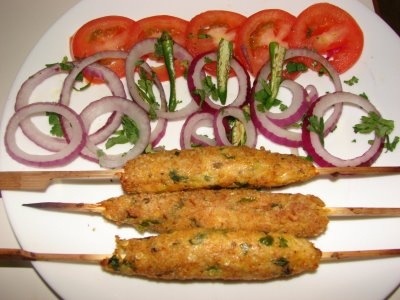 Ingredients:
250 gms french beans, chopped
250 gms carrots, chopped
150 gms paneer, crumbled
2 boiled potatoes, mashed
2 gms besan (gram flour/chickpeas)
1 teaspoon garam masala powder
1 1/2 teaspoon salt
1 1/2 teaspoon chilli powder
2 teaspoon ginger – garlic paste
1 green chilli
1 tablespoon chopped coriander leaves
1/2 teaspoon cinnamon powder
1 cup breadcrumbs
2 tbsp oil
Method:
1. Boil beans and carrots. Add in all the spices, besan, and boiled potatoes and mix well.
2. Add in the crumbled paneer and the breadcrumbs. Mash well to make a dough.
3. Take a portion of the mixture and roll it on a skewer. if you are using wooden skewers, soak them first to avoid them fromburning.
4. Arrange on a non-stick or a grill pan and shallow fry. Cook for about 5 minutes or till they are golden brown.
Serve with mint chutney, onion slices, and lemon.