Kebabs are delightful starter dishes. We are always looking for different, and tasty kabab recipes. Here is Burrah Chicken recipe – a delicious bbq chicken kabab that will leave your family and diners licking fingers. This chicken kebab recipe will require a little effort, but effort always pays off. You can prove that with this recipe – especially during the month of Ramadan.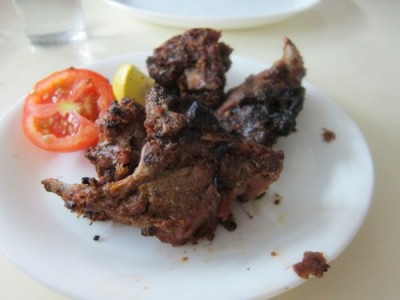 Ingredients:
Chicken, 400 grams cut into chunks
Garlic paste, 2 tsp
Ginger paste, 2 tsp
Red chilli powder, 1 tsp
Salt
Clove (powder) 1/2 tsp
Cinnamon 1/2 tsp
Olive oil 2 tsp
Low fat curds, 1 cup
Balsamic vinegar 2 tbsp
3 tsp masala paste made of green chillies browned onion and corriander stalks
Method:
1. Marinate the chicken with ginger, garlic, red chilly powder, salt and balsamic vinegar, for 10 minutes.
2. For the second marinade, add chilly powder, olive oil, salt, clove powder and cinnamon powder to beaten curd.
3. Add the masala paste made with green chilly, brown onion and coriander stalk to the curd mixture.
4. Add in olive oil mixture. Marinate the chicken with this for half an hour.
5. Barbecue the chicken pieces. You can also grill them in the oven.
6. Before the chicken is almost done, pour some oil on top of the pieces and reheat them again in the oven.
When they are done, serve garnished with salad greens.