I haven't had a person who doesn't enjoy dahi vadas. Its a favorite amongst kids and especially popular during Ramadan since it can be prepared in advance and refrigerated. Like every other dish, dahi vadas have a few variations and all of them are delicious. A quick variation is making the vadas with besan (gram flour), which is readily available in every Indian kitchen. Another one is making the vadas with moong dal flour (split, skinned, green gram).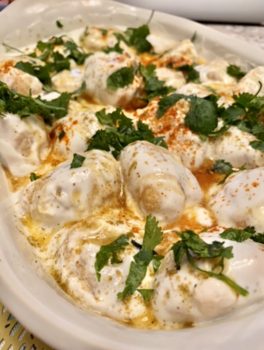 This is the traditional dahi vada recipe – a mixture of black gram (urad) and green gram (moong) flour – and no variation beats it. There are quite a few steps involved in the preparation process which may make it sound tedious. But then, this is one of the 'special evening' recipes so it's okay to go a mile extra. I actually saw my all my efforts gobbled down in just 10 minutes after serving. Mind you, we're just 2 and half people!

So here's the recipe. Have fun!

Ingredients and method for the vadas:

1 cup urad dal (skinned black gram)
1/2 cup moong dal (split, skinned green gram)
1 inch piece ginger
1 tsp red chilli powder
1/2 tsp cumin seeds
1/2 tsp baking soda
Oil for deep frying

1. Soak the urad dal and moong dal overnight or for a minimum of 5 hours.
2. Add urad dal, moong dal, ginger, red chilli powder, and cumin seeds in a blender. Grind till you get a smooth paste, without any small grains. If the paste is too thick, add a few teaspoons of water at intervals.
3. Pour the paste into a bowl. Add the baking soda and whisk it well. The batter should be soft and fluffy. You can check the right consistency by dropping a spoonful of batter in a bowl of water. If the batter floats it's perfect. If the batter doesn't fall off the spoon easily, add a tbsp of water.
4. Heat oil in a deep pan. When the oil is mildly hot, add spoonful of small dollops of the batter in the oil and fry till light brown on all sides.

Once done, remove on paper towels. After about half an hour, place the vadas in 4-5 cups of warm water for an hour.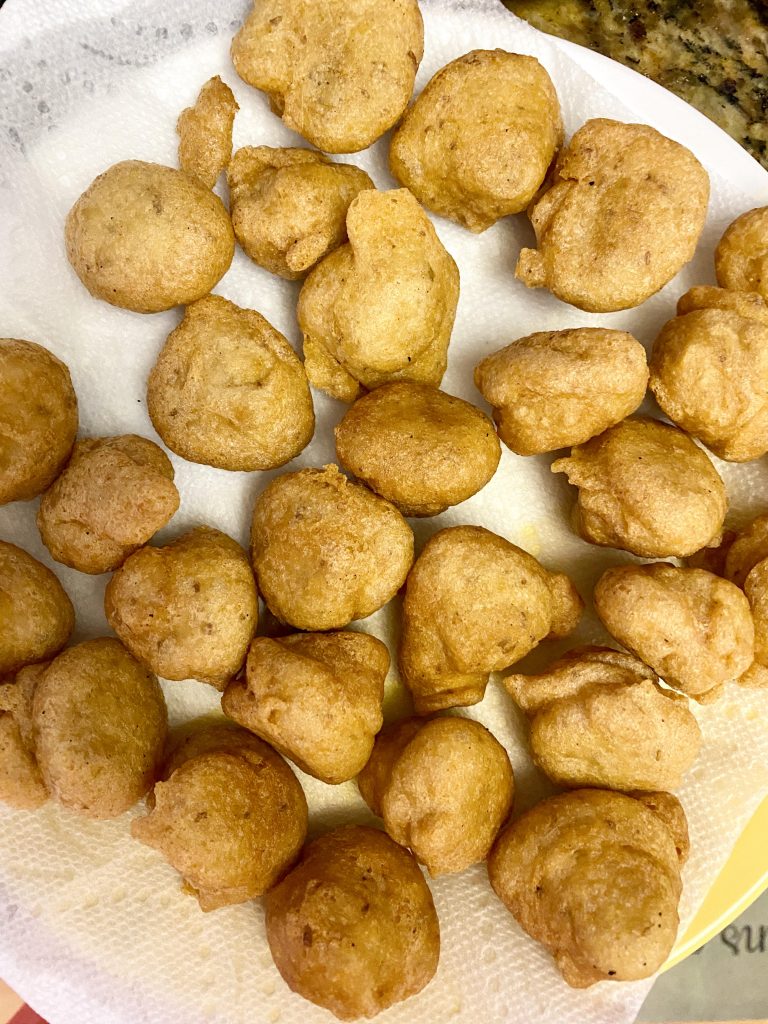 Ingredients and method for the yogurt sauce:

1 kg yogurt
1/2 cup milk
2 tbsp sugar
1/2 tsp salt
1/2 tsp cumin powder
1 tsp red chilli powder
1/2 tsp chaat masala
3 tbsp khatti-meethi chutney (sweet and sour chutney)
Handful of chopped coriander leaves

1. Make the sweet yogurt. In a big bowl, pour half of the yogurt. Add the sugar and whisk well.
2. In a separate bowl, pour half of the yogurt. Add the milk, salt, cumin powder, red chilli powder, and 2 tbsp water. Whisk well.
3. Add these vadas to the sweet yogurt mixture and mix.

Before serving, garnish the dahi vadas with spoonfuls of chutney, sprinkle red chilli powder, chaat masala, and chopped coriander leaves.