A classic, poori bhaaji is one of India's favourite snack and breakfast dishes.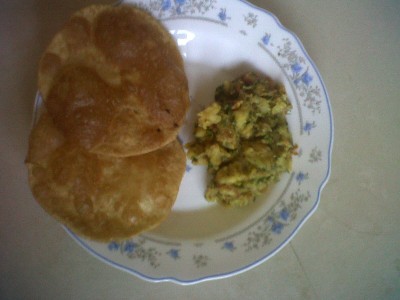 Ingredients:
For the bhaji:
½ kg potatoes boiled with salt
2 medium sized onions chopped
2 tomatoes
4 – 5 green chilies chopped
6 to 7 garlic cloves chopped
1tbsp crushed red chili
1 tbsp jeera powder
2 tbsp oil
Chopped coriander
Salt to taste
For the puri:
½ kg all purpose flour (maida)
2tbsp ghee
1-2 tsp salt
Water for kneading
Oil for deep frying
Method:
Sauté the garlic in oil and add the onions. Sauté them till they caramelize.
Once the onion is done, add all the remaining ingredients except the potato. Fry for two minutes.
Meanwhile, peel the boiled potatoes and mash them roughly. Avoid mashing too much. Add the mashed potatoes to the onions. Cover and cook for another 2 to 3 minutes.
To make the puri, add salt and ghee to the flour and knead, adding water periodically to make a dough. Roll them into round discs and deep fry in oil. Serve the puri hot with the bhaji.