This Spanish chicken stew is a special one by Chef Jawad Munshi. Among the many chicken stew recipes, this recipe stands out – simply because its a recipe by a professional, and experienced Chef. It's delicious and gives a variety to your usual chicken recipes. Try out this chicken stew recipe – Spanish style!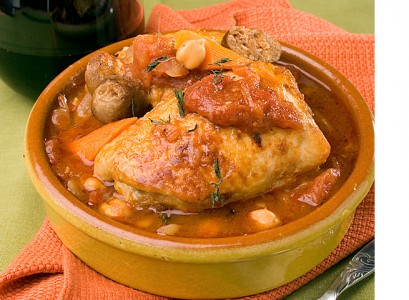 Ingredients
1 Chicken (1.5kg) , cut into 12 pieces
2 tbsp all-purpose flour
1/2 Olive oil
10 Button mushrooms
1 Carrot, peeled and diced
1 Large onion, peeled and diced
4 Garlic cloves, peeled and finely chopped
1tsp Chopped basil leaves
1tsp Chopped thyme
1 Bay leaf
1 Red capsicum, diced
1tbsp Tomato puree
400 g Italian plum tomatoes, mashed
2 cup Chicken stock
10 Green Spanish olives, pitted
10 Black olives, pitted
1tsp Saffron
1 Parsley sprig, chopped
Method:
1. Season the chicken pieces with salt and freshly cracked black pepper and then coat evenly with flour.
2. Heat olive oil in a large pot and sear the chicken until lightly browned.
3. Add in the mushrooms, carrot, and onion and stir-fry for 1 to 2 minutes. Add in chopped garlic, basil, thyme and bay leaf and stir-fry for a further 1 to 2 minutes.
3. Add the capsicums, tomato puree, tomatoes and chicken stock and simmer over low heat. Then add in the saffron and the green and black olives and cook until chickens are tender.
Serve chicken stew into a serving dish and garnish with chopped parsley