Well, here it is! Biryani goes veg! Here is an amazing vegetable biryani recipe infused with the soft fragrance of saffron and star anise. Veg biryani is one of the delightful vegetarian recipes to make. At first, this may not sound as one of those easy biryani recipes, but it actually is. Vegetable biryani is healthier version of biryani since it requires lesser amount of oil. Read it, cook it – and then you'll understand it best! Enoy your veg biryani!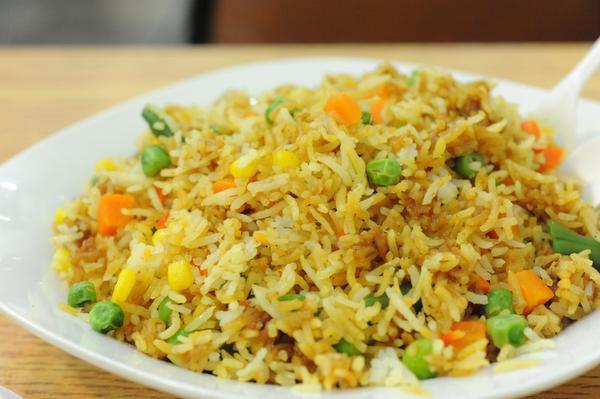 Ingredients:
For the rice:
Water, 2 cups
Basmati rice, 350 grams
Mint leaves, chopped, 1 tbsp
Whole spices, 1 tbsp
Lemon juice, 1/2 tsp
Black cumin seeds, 1/2 tsp
Turmeric 1/2 tsp
Saffron 1/2 tsp (diluted in hot milk 1/4 cup)
Salt to taste
For the biryani masala:
Onions, 3 medium (finely sliced)
Tomatoes, 3 large (finely chopped)
Potatoes (cut into small cubes) 2 large
Carrots (cut into round slices) 2
French beans (cut into 1 inch piece) 10
Peas 1 cup
Cauliflower 1 cup (finely chopped)
Oil 1/2 cup
Yogurt 1/2 cup
Ginger-garlic paste 2 tbsp
Red chilli powder, 2 tsp
Garam masala, 1 tsp
Coriander powder, 1 tbsp
Coriander leaves, for garnishing
Cashew nuts for garnishing
Method:
1. Boil about 2 cups of water in a vessel. Add in mint leaves, salt, turmeric, whole spices and lemon juice. When the water bubbles, carefully add in the rice.
2. When the rice is nearly done, take it off the flame. Place in one star anise in the center. This releases a soft aroma and flavour in your rice. Allow the rice to cool completely by spreading it on a tray or a dish.
2. Once the rice has cooled, add in the saffron (diluted in hot milk) and mix the rice gently. Avoid smashing the grains.
3. In another vessel, heat oil (preferably a pressure cooker as it is perfect for dum). Add black cumin and allow them to splutter.
4. Add two sliced onions and saute till dark golden. Add in the tomatoes and cook till they are tender.
5. Add in the ginger garlic paste, and saute till oil seperates.
6. Now add in all the powdered spices, along with some salt and all the chopped vegetables. Mix well.
5. Cover and cook on low heat till vegetables are tender. Add in the yogurt and allow to cook for another ten minutes. Remove your biryani masala in a bowl.
Once your rice and biryani vegetable masala are ready, start the layering. Layering is a crucial part to preparing a biryani.
6. Deep fry the leftover one onion in a pan. Remove on kitchen towels to drain excess oil. Fry cashew nuts in the same oil till golden.
7. In a pan, spread half of the vegetable masala. Add half of the rice, topping it with another layer of vegetable biryani masala. Spread another layer of rice on top.
8. Finally top it with fried onions (or raw onion rings) and cashew nuts.
8. Cover and allow to be on dum over low flame for 15 minutes.
Garnish with coriander leaves. Your vegetable biryani is now ready to be served!