A simple classic – brownie with chocolate sauce. Here's a recipe to churn a perfect walnut brownie with chocolate sauce in your kitchen.  I am sure it would be the ideal romantic treat on your table.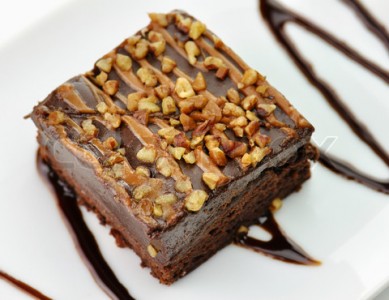 Ingredients:
1 cup sugar (grind to fine powder)
1 cup maida
½ cup butter
½ cup ghee
2 eggs
1 tsp baking powder
1 ½ tbsp Coco powder
¼ tsp salt
½ tsp Vanilla essence
3 tbsp milk
½ cup walnut (optional)
For chocolate sauce:
125 gm chocolate
4 tbsp sugar (grind to fine powder)
1 tsp butter
½ cup cream
½ cup milk
Method:
First, prepare the chocolate sauce. In a pan, add the baking chocolate and allow it to melt over low flame, stirring constantly. Pour the melted chocolate in a bowl and add half a cup of milk, sugar, butter and cream. Mix well.
In another bowl, prepare the batter for the brownie. Beat the sugar, butter and ghee together till it attains a thick creamy consistency. Next, add two eggs and beat again.
Sieve the maida (all-purpose flour), coco powder, baking powder and salt twice. Add two tablespoons of this mixture to butter and sugar, and mix well. Add only two tablespoons each time to the butter and sugar, and fold well. Add two tablespoons of chocolate sauce, the vanilla essence, milk and walnuts and mix well.
Grease the baking dish and cover it with butter paper. Pour the batter into it. Bake in a pre-heated oven for around 20 mins. You can check by inserting a toothpick. If it comes out clean, your brownie is ready.
Serve with the chocolate sauce.