Thai red curry is a popular Thai dish, now also well-known around the globe. The soul of far east cuisine lies in preparing them as authentically as possible. At Cukzy, Chef Jawad Munshi brings you a traditional way of preparing Thai red curry with chicken along with some tips for Chinese and Thai cooking.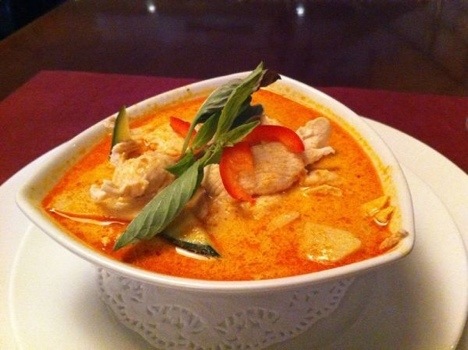 Ingredients:
40 ml peanut oil
1 onion, finely chopped
1 tbsp thai red curry paste
2 cloves garlic
1 galangal (or ginger), cut into jullienes
1 cup coconut milk
50 ml chicken stock
2 tbsp fish sauce
1 tbsp brown sugar
1 zucchini (triangle cut)
1 red capsicum (triangle cut)
250 grams chicken breasts fillets (medium sized cubes)
2 tbsps corn flour
2 tbsp lemon juice
7-8 thai basil leaves
Method:
1. In a wok, heat the oil and add the onions. Cook for about five minutes, stirring ocassionally.
2. Add the curry paste and garlic. Saute for a minute.
3. Now, add the coconut milk, stock, fish sauce, ginger, sugar, and salt. Bring to a boil.
4. Add the pepper and zucchini. Reduce the heat, cover, and simmer.
5. Add the chicken and simmer until cooked.
6. Dilute the cornflour in water and add to the curry until the curry thickens. Stir in the lemon juice and basil.
Thai Red Curry is ready. Serves well with jasmine rice.
Note:

1. Galangal is a type of Thai ginger and can be substituted with local ginger.
2. Thai curry paste can be made in the kitchen as well. The ready made one saves a lot of time and the authentic method of preparing this paste is a very delicate process.
3. Thai red curry tastes delicious using any selection of seafood.
4. The best method of making any Thai or Chinese food is to temper the wok – put thrice the quantity of oil required in the wok and heat it. Spread the oil all over the wok, and once the wok is hot remove the excess oil and proceed to cook.