Who would have thought that cheese would be an ingredient in a mutton chops recipe? Shahi cheese mutton chops is a heavenly dish – the perfect combination of mutton and cheese. This lamb chop recipe definitely qualifies to be presented to your guests. Shahi cheese mutton chops is also one of the favourite Ramadan recipes. Here is another shahi dish for Cukzy readers!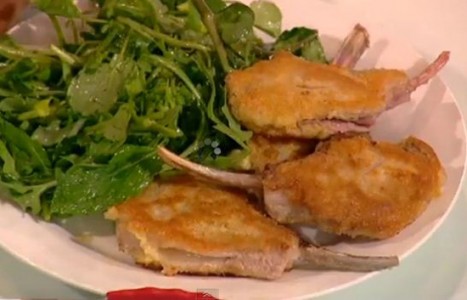 Ingredients:
240 ml evaporated milk
500g single mutton chops
100g onions chopped
420g potatoes boiled and mashed.
1 tbsp seeded and finely chopped green chilies
½ cup finely chopped coriander leaves.
2 tbsp lemon juice
1 tsp garam masala
1 cup/ 100g grated cheddar cheese
Salt to taste
1 egg, well beaten
½ cup dried bread crumbs
Oil for deep frying
Method:
Combine the milk, mutton chops and chopped onions. Bring to boil. Cover it and simmer for around 30 minutes or until the meat starts to separate from bone and no liquid remains.
Remove meat from all the bones and mash it well. Keep aside. Reserve 12 clean rib bones, remove and discard the top joint from them and keep them aside.
Mix the meat, mashed potato, green chilies, coriander leaves, lemon juice, garam masala, cheddar cheese and salt. Mix well. Divide into 12 portions. Wrap a portion around the top of each of the reserved ribs. leaving a few centimeters of the bone free.
Dip each chop in beaten egg. Coat with bread crumbs and deep fry in hot oil till its well browned on all sides. Drain on kitchen towels.
Serve shahi cheese mutton chops with chutney or ketchup.