Raan, or mutton  leg is one off the family-meal dishes. Preparing a leg of lamb can be tricky and is time consuming. The end result, however, is worth it. The leg of lamb is sometimes chopped into medium sized pieces for convenient cooking. Whether whole or not, leg of lamb is a sure treat for your entire family. This roast leg of lamb recipe is perfect as a Ramadan recipe as well.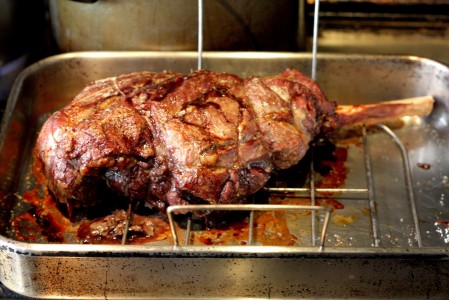 Ingredients:
1/2 kg mutton leg
250 grams yogurt
2 tbsp lemon juice
100 grams butter
2 tbsp papaya paste
1 tbsp red chilli powder
1 tbsp black pepper crushed
1/2 tsp white pepper powder
1 1/2 tbsp ginger-garlic paste
2 tsp white vinegar
Salt to taste
Method:
1. In a bowl, add butter, papaya paste, red chilli powder, white pepper, lemon juice, ginger garlic paste, black pepper, yogurt, white vinegar, and salt.
2. Now place the mutton leg in the bowl and allow to marinate for twenty minutes (overnight is always recommended).
3. Cover with a cling film and place in steamer for half an hour.
4. Remove from steamer and bake it in an oven for 10 to 15 minutes at 200 degrees. Brush a little butter over the meat.
Your balochi mutton leg is ready.