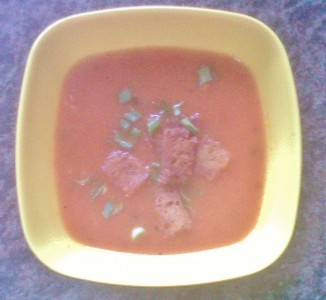 Ingredients:
6 – 8 tomatoes
2 – 3 cloves of garlic
1 tsp chopped garlic
2 -3 curry leaves
1- 2 tsp freshly ground peppercorns
1-2 green chilies chopped
½ tbsp red chili
vegetable / chicken stock
2 tbsp oil
2 tbsp corn flour
Salt to taste
Method:
1. Boil the tomatoes and peel them. Grind them with half a glass of water. The consistency should be similar to a thin juice.
2. In a pot, heat 2 tbsp oil. Add in the ginger, garlic, curry leaves and green chilies. Sauté.
3. Add the red chillis, and pour in the tomato juice. Bring to a boil.
4. Mix in the corn flour with water and add to the soup. Stir well and bring to a boil. Adjust the consistency by adding more water or corn flour.
5. Serve with bread sticks or crispy croutons.