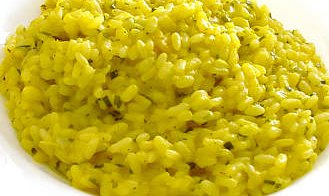 Ingredients:
4 tablespoon butter
2 tablespoon olive oil
1/2 medium sized onion, chopped
2 garlic cloves, chopped
1 teaspoon saffron
3/4 cup of carnaroli rice
3 cups of boiling water or chicken stock
1/4 cup chopped parsley
2 tablespoons grated cheese
Method:
1. Use a deep bottom non-stick wok. Add the butter and olive oil. Add the chopped onions, garlic, and saffron.
2. Saute until the onion turns translucent. Add the carnaroli rice and stir until the rice is coated in the butter and onions.
3. Now, add the warm chicken broth or water. Keep stirring uncovered.
4. Stir continuously till mixture cooks. The rice should acquire a creamy consistency. Add chopped parsley and cheese.
5. Allow the cheese to melt. Garnish and serve.