Butter Garlic Prawns are a favorite with seafood lovers, mostly because of their strong, arresting aroma. Butter garlic prawns originally are low on spice levels. I came up with this prawns recipe to serve my folks butter garlic prawns that are mildly spiced. The onion and the chillies are processed into a paste so as to not overpower the flavour and fragrance of the butter and the garlic. This easy prawns recipe take about 20 minutes on the clock, and is a wonderful dish to present.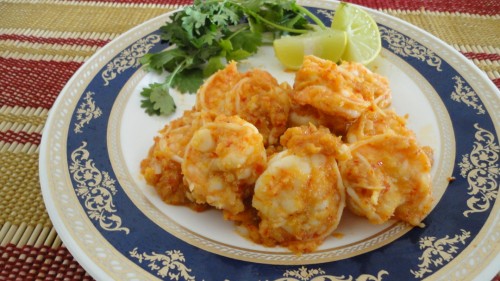 Ingredients:
300 grams prawns, deshelled and deveined
4 tbsp butter
5 garlic pods
1 small red onion
2 -3 red chillies
1 tsp lemon
1 1/2 tsp tamarind juice
1/2 tsp sugar
Salt
Method:
1. Heat butter in a wok and add the chopped garlic.
2.Grind the onions and red chillies in a food processor.
3. Once the garlic releases an aroma, add in the prawns. Saute till they turn pink.Remove and drain on kitchen towels.
4. In the same butter, add the onion-chilli paste. Saute for two minutes.
5. Now add in the tamarind juice. Saute till the sauce reduces to a slightly thick consistency.
6. Add in the prawns. Stir well so the prawns are coated well.
7. Pour in the lemon juice. Saute for about five minutes.
Serve.