Nothing like a dessert with coffee and chocolate – two ingredients most people are strongly addicted to. Here is a beautiful laid out chocolate and coffee dessert you can make at home, and serve stylishly!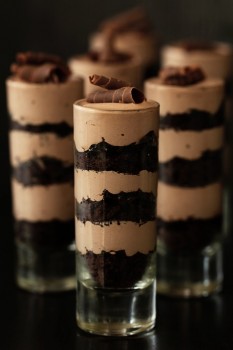 Ingredients:
50g  toblerone honey nougat chocolate
¼ can of condensed milk
2 cups hot water
4 tbsp sugar
2 tbsp gelatin
Cherries and mint leaves for garnishing
Method
Mix the gelatin in half cup of water and dissolve it by heating over a pan of hot water.
Blend the coffee powder in the remaining 1 ½ cups hot water. Divide in two portions.
In one of these, add sugar and half of the gelatin mixture. Keep aside.
Add the condensed mixture and remaining half of the gelatin mixture to the other portion of the coffee mixture. Mix it well.
Take 5 cocktail glasses. Pour half an inch of the black coffee mixture and keep in the refrigerator until it is set.
Once set, remove from fridge and pour another half inch of the milk coffee layer. Chill again to set.
Repeat the layering and chill to set.
Cut the toblerone chocolate into pieces and melt over a pan of hot water.
Just before serving, pour 2 tbsp of the melted chocolate and decorate with cherries and mint leaves.