Here is a recipe I relish on Sundays, if I am not in mood for fish fry. This is the south Indian style of preparing dal, and one of the healthiest dishes. Dal with vegetables is different from the normal dal fry. Daal is a must on the table in many Indian households. That's the reason we are always looking for variations to this dish. Try out this easy dal recipe and let us know how it was! Don't forget to club this with a starter – either a chicken kebab or paneer tikka!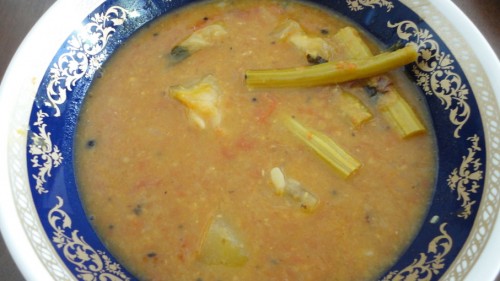 Ingredients:
For the dal:
200 grams toor dal
2 large tomatoes or 3 medium sized, cut into cubes or chunks
2 large onions, cut into cubes or chunks
6 garlic flakes
6 peppercorns
1 teaspoon tamarind extract
1/4 teaspoon turmeric powder
1 1/2 teaspoon red chilli powder (or as per preference)
1 to 2 drumsticks, cut into long pieces
2 aubergines, cut into chunks
1/2 bottle gourd, cut into chunks
Salt to taste
For the tadka:
6 teaspoon oil
1/2 teaspoon mustard seeds
8 to 10 curry leaves
1/2 teaspoon cumin seeds
1 onion, finely chopped
2 green chillies, deseeded and finely chopped
Method:
1. Wash the dal and soak in water for about twenty minutes.
2. In two and half cups of water, add dal, tomatoes, onions, garlic, peppercorns, tamarind, salt, turmeric and red chilli powder. Pressure cook for 15 minutes.
3. Meanwhile, in a separate pan, prepare the tadka. Heat oil or ghee, and add all the tadka ingredients. Fry till onions are golden brown.
5. Add all the vegetables to the tadka and lightly fry them.
6. The dal is now almost done. Beat it with a ladle or a hand beater so that everything is well-blended. Adjust the seasoning.
6. To the dal, add the vegetables and tadka. Bring it to a boil. Reduce flame and cover with a lid. Do not pressure cook it.
7. Keep covered for about 2 minutes.
 Your dal is now ready to serve! This dal tastes best with rice!