While the favourite meat on charcoals is lamb, the downside is the preparation time. To barbecue mutton – whether chops, boneless chunks, or steaks – the marination for over 4 to 6 hours is necessary and extremely important. Raw papaya is applied to mutton pieces as a tenderizer, before applying the marinade. Overnight marination works best. Here is barbecue lamb chops recipe – a recipe that does not need tenderizer,  but cooks faster.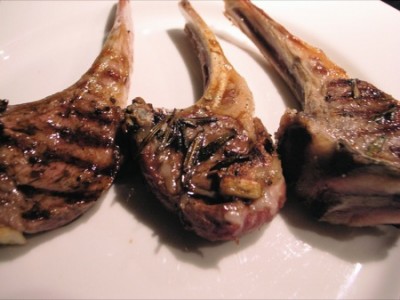 Ingredients:
1 kg mutton chops
3 tsp ginger paste
3 tsp garlic paste
Juice of 1 lime
1 1/2 tsp salt
Oil for basting
Spice Paste:
1/4 cup oil
1 large onion, sliced
8 whole dried red chillies
10 cashew nuts
1 1/2 cups coriander leaves
Method:
1. Heat oil. Fry the onion till light brown. Add the red chillies and cashew nuts. Remove and drain the oil. Grind with coriander leaves into a fine paste.
2. Add ginger, garlic, salt, and lime juice to the paste and mix well. Marinate the chops and refrigerate for about 6 hours.
3. Before barbecuing the chops, make sure that they are at room temperature. Chops should not take longer than about ten minutes on the grill. Bast oil frequently.
It's ready! Serve with onion rings and lemon slices.