Shahi Navratan Korma is a delicious combination of 9 vegetables in a mildly spiced, creamy gravy. You can use vegetables of your preference. When I want to give my family a vegetarian treat, I whip up dishes that are pretty much an overdose on vegetables like Baked Creamy Vegetables, BisiBeleBath, Pav Bhaji and Vegetable Biryani.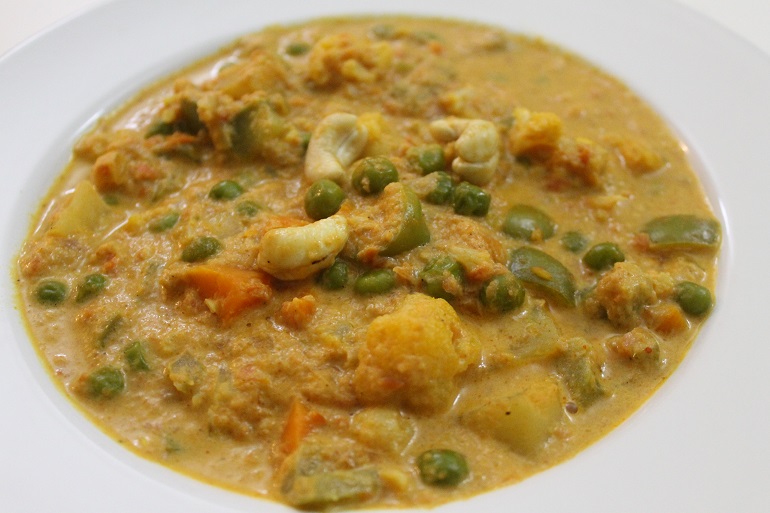 Ingredients:
1 cup chopped capsicum
1 cup french beans
1 cup caulifower florets
1/2 cup green peas
1 cup carrots
2 medium sized potatoes cubed
2 onions, finely chopped
4 tomatoes, pureed
4 green chillies, chopped (Adjust to your taste)
1 tsp ginger-garlic paste
1/2 tsp red chilli powder
1/2 tsp cumin seeds (jeera)
1/2 tsp turmeric powder (haldi)
1 tsp coriander powder (dhania)
1 tsp whole spice powder (garam masla)
1 cup fresh cream
1/2 cup chopped, roasted cashews and almonds
2 tbsp oil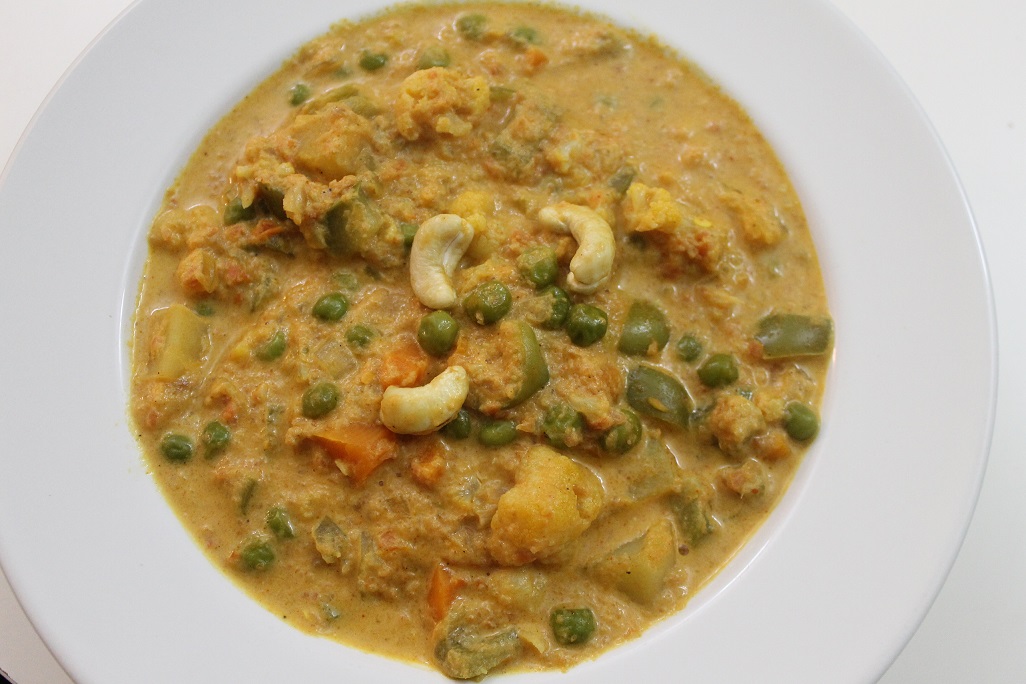 Method:
Head oil. Add cumin seeds, green chillies, and ginger-garlic paste. Saute.

Add the onion and fry till they turn slightly golden.

Add the tomato puree, salt, and spice powders. Stir to blend in everything. Then add the vegetables. Mix well, cover and simmer on low heat. Pour half a cup of water. You can add some more later on if the vegetables haven't cooked or the korma appears to be dry.

Once the vegetables are done, add the fresh cream and nuts. Give it a stir, turn off the flame, and keep covered.
Serve garnish with coriander leaves or nuts.