Bisi bele bath is a famous dish from Karnataka's traditional cuisine. It is a combination of dal, rice, and vegetables, and is very healthy and tasty. The downside is that preparing bisi bele bath is time- consuming and requires effort. The upside is that the effort is worth it. Its one of those dishes that will help you convince your kids to eat something that is nutritious and tasty. Its my husband's favourite south indian dish (who is a Bangalorean) and my mother-in-law makes it the best! In Karnataka, bisi bele bath is usually had for breakfast or brunch. Its advisable to use the ready masala available in grocery stores, since preparing the masala is quite a process.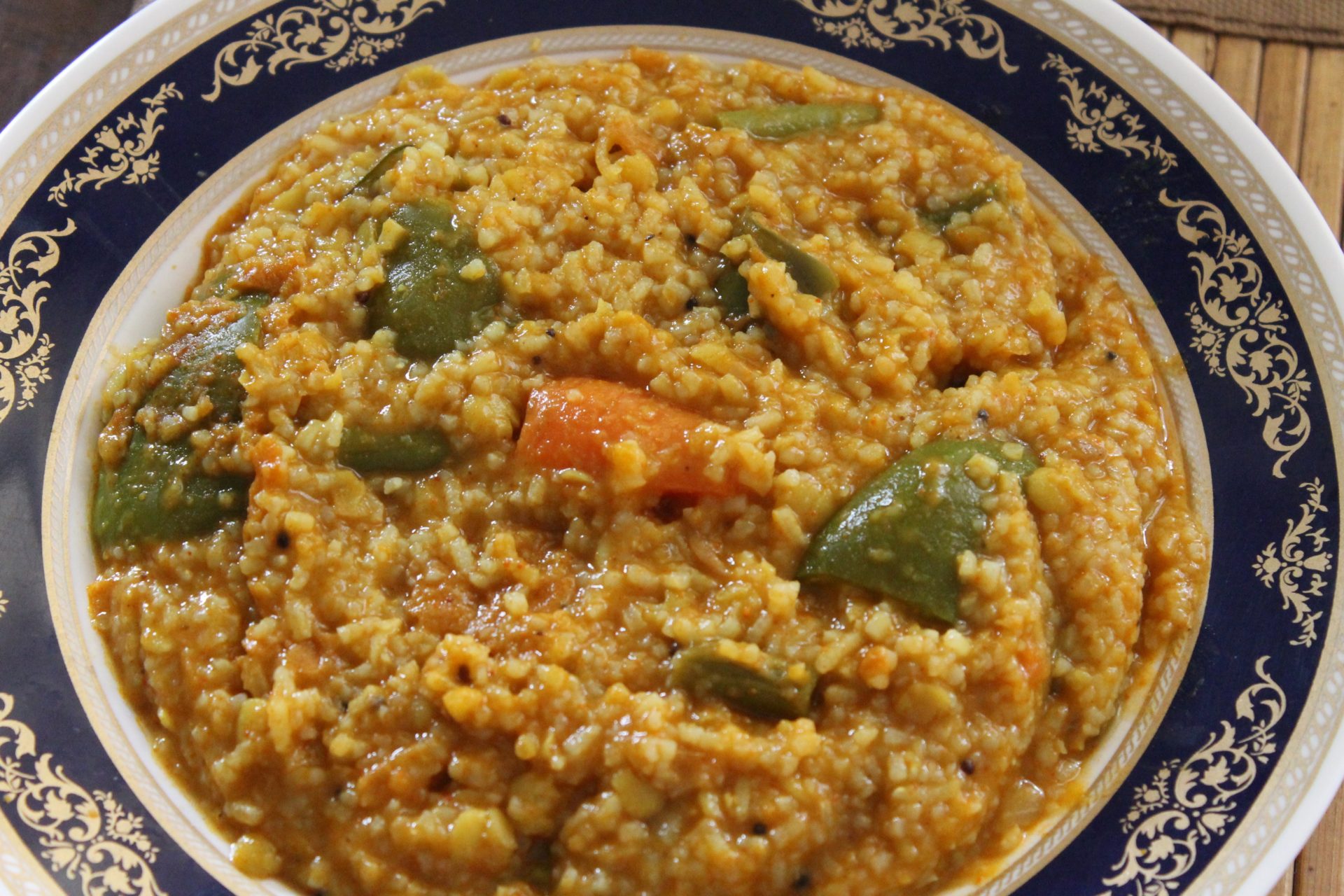 Ingredients:
150 grams toor dal
100 grams rice
1 large onion, sliced
2 green long brinjal, cubed (replace aubergine)
2 carrots medium, cubed
10 – 12 french beans, chopped
1/2 capsicum, roughly chopped
4 -5 florets cauliflower (optional)
5-6 garlic cloves
5 – 10 grams tamarind soaked
3 – 4 whole dried red chillies
1/4 spoon haldi
1 spoon mirchi
4 tbsp Bisi bele bath masala
 Seasoning:
Curry leaves
Mustard seeds
Cashew nuts
Method:
1. Soak dal 3 – 4 hours or at least for half an hour. Cook in a pressure cooker till soft and paste-like.
2. Heat oil in another vessel. Season with mustard seeds, onions, and curry leaves. Add all vegetables and sauté till the colour changes slightly.
3. Add cooked dal. Pour 5 glasses of water and allow to boil.
4. Add the rice and cook. Add the red chilli powder, salt, and haldi. Allow to cook.
5. Add the bisi bele bath masala (we use MTR) and tamarind juice and cook till rice is very soft.
6. In other vessel, heat oil. Add the mustard seeds, cashew nuts, and curry leaves and add to the bisi bele bath.
Bisi bele bath is ready.