Umm Ali – a famous, festive Egyptian dessert – brings back memories from my food-filled childhood. A spoonful of Um Ali means buttery, flaky puff pastry soaked in flavored milk, crusted with nuts and shredded coconut, and layered with cream. Um Ali should be served warm and immediately because it could turn soggy. You can use any puff pastry you like – homemade, frozen pastry sheets, puff pastry biscuits, or croissants, which I've used. This Um Ali recipe requires little effort and about 40 minutes which, I'm sure, all of us are ready for to churn out a delicious, happily-ever-after dessert.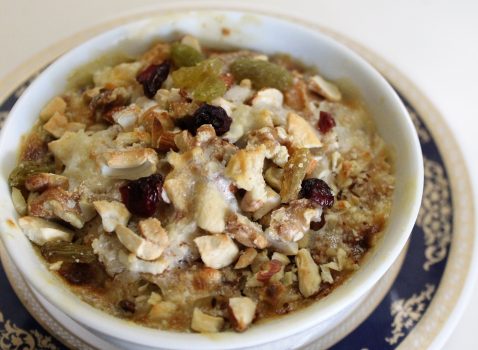 Ingredients:
4 croissants, toasted to be crispy and flaky
1 tsp cinnamon powder
500 ml milk
1/3 cup sugar
1 cup heavy whipping cream
1 tbsp sugar
2 cups mixed chopped nuts (or as much as you like) – walnuts/almonds/pistachios/raisins/cashews/hazelnuts
1 tbsp shredded coconut
1 tsp vanilla extract

Method:
Preheat oven 200 F.

Simmer the milk on medium heat. Add cinnamon powder and sugar. Stir continuously till milk comes to a boiling point. Keep aside to cool. When cooled, add the vanilla essence.

Whip the heavy cream with 1 tbsp sugar till you get soft peaks.

In a baking dish, roughly break 2 croissants into bite size chunks and cover the entire base, every corner of the baking. Sprinkle the shredded coconut and 1/2 cup of mixed nuts on the layer of croissants.

Cover the nuts and coconut with the other 2 croissants broken into bite size pieces. Sprinkle another half cup of mixed nuts.

Pour the cooled milk on the croissants liberally. The croissants should be completely soaked. You might find the croissants swimming in milk.

Spread the whipped cream evenly on the top. Cover the whipped cream with leftover nuts. Don't fill the baking dish to the brim.

Bake in preheated oven for 20 minutes at 250 F. Broil for 3-5 minutes to toast the top.
Serve warm.