The hyderabadi mirchi ka salan is particularly famous as an accompaniment to biryani. Here is a mirchi ka salan recipe that bring the authenticity of the dish to your plate.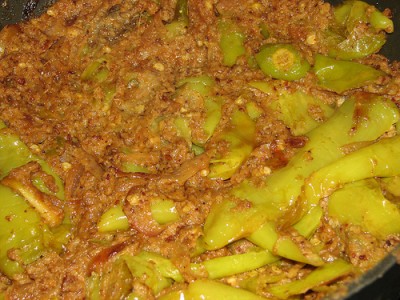 Ingredients:
250 grams capsicums or long thick green chillis (bhavnagri mirchi)
1 medium onion, sliced
1 1/2 tsp garlic paste
1 tsp cumin powder
1 tsp methi powder
1/4 tsp turmeric powder
2 tsp red chilli powder
1 tsp salt
4 medium tomatoes, puréed
2 dried red chillies
1 tsp whole black peppercorns
6 curry leaves
6 tablespoon tamarind juice
1 tsp coconut paste
4 green chillies, slit and deseeded
6 tbsp oil
Sauté the following ingredients and grind when cool:
3 tbsp oil
1 finely chopped medium-sized onion
1 tsp sesame seeds
1 tsp poppy seeds khus-khus
Method:
1. Deseed the capsicums/chillis, and cut them length-wise.
2. In a heavy-bottom vessel, heat oil and fry the sliced onion till golden brown. Add the garlic paste and dry spices. Sprinkle drops of water to prevent the spices from burning.
3. After frying for a few minutes, add in the tomato purée.
4. Add the ground paste and simmer for about 5 to 7 minutes.
5. Add red chillies, peppercorns, and curry leaves. Stir.
6. Add the capsicums/chillis and cook for 10 minutes. Allow them to tenderize.
7. Pour the tamarind juice and simmer till the consistency thickens a little. Add coconut paste.
8. Simmer the gravy till oil separates.
Serve.