Here is a quick snack you can whip in no time. Pocket pizzas are made with pita breads and the filling can vary according to taste. The must-include ingredient is the pizza sauce. Our Chef's pizza sauce recipe is the deliciously traditional recipe that will add zest to your pizzas!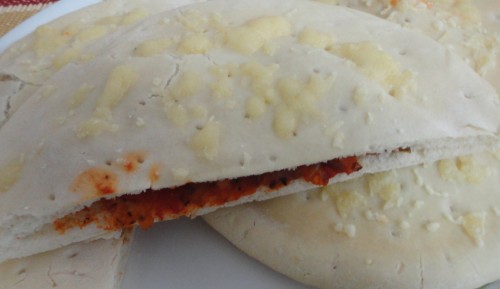 Ingredients:
3 pita breads
2 – 3 mutton/chicken sausages (or any other non-veg or veg ingredient you like)
2 cups grated mozzarella cheese
1 capsicum, chopped
1/2 onion, chopped
1 big tomato, chopped
1/2 cup corn kernels
2 tbsp pizza sauce
1 tsp red chilli flakes
1 tsp oregano
Salt for seasoning
Method:
1. Heat a teaspoon of oil in a pan. Add in the onions and saute for about two minutes.
2. Add in the sausages and cook. Add in all the vegetables and toss. Season with salt. Cover and allow to saute for five minutes.
3. Add in the pizza sauce and stir. Cook till all vegetables have slightly softened.
4. Cut the pita breads in half. Slit open each half and make pita pockets. Apply a little butter on both sides.
5. Fill the pockets with the sausage filling. Sprinkle cheese, chilli flakes, and oregano on the pita breads. Bake in a preheated oven at 200 degree Celsius for about 10 minutes.