Brinjal can be a tricky vegetable to cook. Apart from baingan bharta, there are many recipes that make this vegetable into a delicious dish. Dahi baingan, or brinjal with yogurt, is a delicious and easy vegetarian recipe that even got my non-vegetarian folks to enjoy a vegetarian dinner!!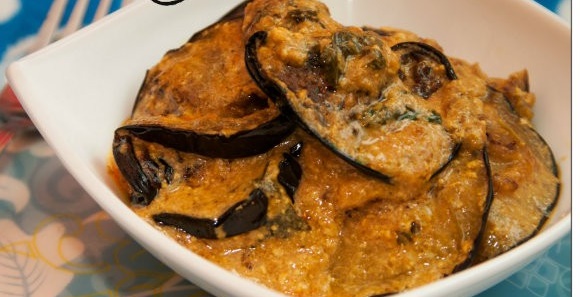 Ingredients:
·          ½ kg  brinjal (cut in a circular shape and soaked in salt water for 10 minutes)
·          3 tbsp oil
·          100g  peanuts freshly roasted
·          10 – 12 garlic cloves finely  chopped
·          3- 4 whole dry red chilies
·          2 tsp cumin powder
·          1 tsp coriander powder
·          2 tsp red chili powder
·          ½ tsp turmeric powder
·          250 gm yogurt
Seasoning:
·          1 tbsp oil
·          chopped curry leaves
·          chopped green chilis
·          1 tsp mustard seeds
Method:
1. Take the peanuts, dried red chilies and garlic cloves together and grind them to a paste.
2. Heat the oil in a pan, fry the brinjal on medium flame till lightly browned. Remove from oil and keep aside. In the same oil, add the ground paste along with the coriander, cumin, red chili, and turmeric powders.
3. Add one glass water and cook for 10 – 15 mins. Once the masala is done, add the fried brinjal, cover and cook for about two minutes.
4. In a small pan heat 1 tbsp oil for the seasoning. Add the mustard seeds, curry leaves, and green chillies. Sauté till dark brown.
5. Take the yogurt in a bowl, add salt to taste and whip till it has a smooth consistency. Pour the seasoning over the yogurt.
To serve:
In a serving bowl first pour the fried brinjal, then pour the yogurt over it. Garnish with mint leaves. Serve with chapatti or rice.