This is my first stint with eggplant, also called aubergine. I was desperate to diversify my vegetarian fare and decided to pick a vegetable I hadn't tasted or cooked earlier. Eggplants are high in B-complex vitamins and anti-oxidants. Here is a simple eggplant curry recipe that tastes good and is easy to prepare.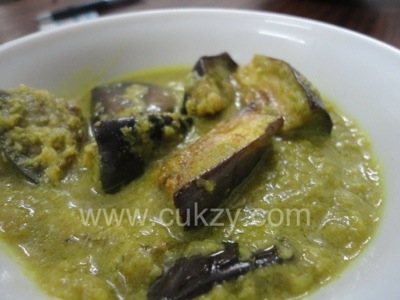 Ingredients:
4 small eggplants / aubergines
1 1/2 cup coconut milk
1 cup vegetable stock
1 tsp turmeric
Oil for frying
To Blend (a rough paste)
1 medium- sized onion
3 cloves garlic
1 inch piece of ginger
3 green chillies
Coriander stalks from about half a bunch
1 tsp cumin powder
1 tsp coriander powder
Water as required
Method:
1. Cut the eggplants into chunks. Quarter length-wise and then halve them. You can also slice the quarters.
2. Heat oil enough to shallow fry the eggplants. On medium-heat, fry them on each side till you get a golden brown colour. Keep aside.
3. In the same pan, add in the coconut milk and the blended paste. Simmer for a minute.
4. Add the stock, turmeric and simmer again until the rawness has gone. Add in the fried eggplant chunks. Simmer for about 10 minutes.
That's it! Its done and ready to serve!