Cheesecake has been one of the most delightful desserts to indulge in and one of the simplest to prepare. Cheesecake recipes can be experimented with a variety of additions – blueberries, strawberries, chocolates, and so on. On Cukzy, we bring you a citrus variation of cheesecake, infused with cinnamon.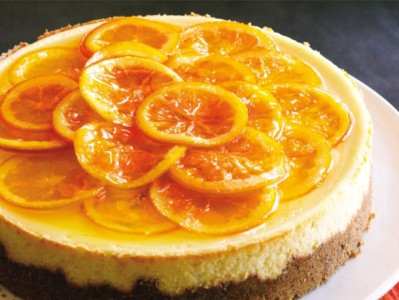 Ingredients:
For the cinnamon-orange slices
6 oranges, sliced
2 cups water
300 grams sugar
1 cinnamon stick
For the cheesecake crust:
180 grams digestive biscuits
100 grams butter, melted
2 tbsp castor sugar
1 tsp vanilla essence
For the cheesecake filling:
600 grams cream cheese
200 grams icing sugar
20 grams fresh cream
Zest of an orange
Method:
1. Bring water, sugar, and cinnamon to a boil until thick. Place slices of oranges in a bowl. Pour the syrup over the orange slices. Cover for ten minutes and set aside.
2. Mix together the crust ingredients and place in a 8 or 9 inch pan. Press the ingredients towards the bottom and even out the layer.
3. Whip the icing sugar and whipping cream in a bowl till fluffy. Refrigerate.
4. Beat the cream cheese and orange zest till smooth. Add in the cream and fold together until mixed evenly.
5. Pour the batter over the crust. Place the pan in the fridge (not freezer) overnight to set.
6. When ready to serve, layer the orange slices on the cheesecake.
2.