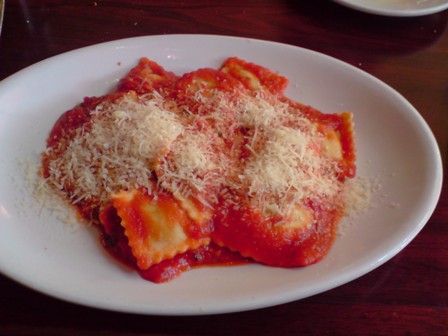 Ravioli is nothing but stuffed pasta. As they are boiled, they are light on the stomach and can make a great supper or starter again depending on the kind of filling you do. You've a variety of choices for the filling. This is a spinach and chicken ravioli – a healthy and easy ravioli recipe for you to make a perfect home-made Italian meal.
Ingredients:
For the Ravioli:
4 eggs, beaten
¾ cup water
3 ¾ cups of sifted flour
1 ½ tsp salt
For the Filling:
1 cup of ground, cooked chicken
¾ cup spinach, washed, drained & chopped
Chopped veggies like carrots or cabbage or even corn (optional)
3 tbsp melted butter
3 tbsp Parmesan cheese
¼ tsp salt
A pinch of ground nutmeg
Dash of pepper
Method:
Combine the eggs and water in a large bowl, add 2 cups of sifted flour and salt and beat well.
Gradually stir in the remaining flour and stir to make moderately stiff dough. Knead on a floured surface for 8 to 10 minutes till the dough is smooth.
Divide it into two parts. Cover and let it rest for 10-15 minutes.
Roll each part into a thin rectangle and then cut out 2 inch squares.
In a separate bowl, prepare the filling by combining the chicken, spinach, veggies, melted butter, cheese, salt, nutmeg and pepper.
Place a teaspoon of the filling in the centre of the square. Moisten the edges of the square and cover it with another square. Seal the edges with a fork.
Once done with all the squares, set them aside for an hour to dry, turning once.
Cook these ravioli in a large vessel of rapidly boiling salted water for 7 to 8 minutes or until tender. Rinse in cold water and drain well.
Place in bowl and pour spaghetti sauce over it. Sprinkle with Parmesan cheese.
Your ravioli is now ready to eat!