Here is a Greek touch – with olive oil, lamb, feta and tomatoes. This lamb roast recipe is a perfect continental recipe for summer. This lamb rack recipe goes well with a pilaf or mildly herbed rice. Enjoy the way Greeks made it!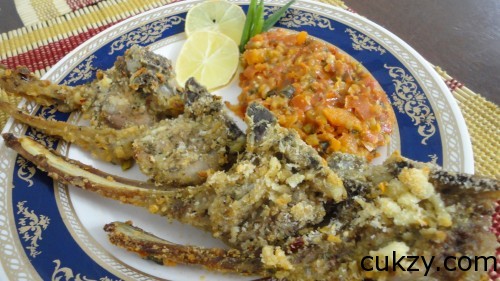 Ingredients:
Lamb seasoning:
50 grams feta, finely crumbled
1/2 lemon zest
A pinch of dried oregano
1/2 a slice white bread, ground into crumbs
For the lamb:
8 pieces lamb chops
2 tbsp olive oil
1/2 lemon zest
2 clove garlic, crushed
1 tsp dried oregano
Few sprigs of thyme
For the sauce:
3 medium sized tomatoes, finely chopped
2 cloves garlic, crushed
Half cup chopped parsley
Method:
1. Marinate the lamb in a casserole dish with thyme, olive oil, lemon zest, garlic and half oregano. Marinate for half an hour. Do not refrigerate.
2. Meanwhile, prepare the sauce. Heat 1 tbsp olive oil in a pan. Add the crushed garlic and parsley and stir.
3. Now add the tomatoes, oregano and simmer till it becomes saucy.
4. Preheat oven to 230 degrees. In a bowl, mix some of the chopped parsley leaves, feta, zest, oregano and breadcrumbs.
5. To cook the lamb, first season it with salt and freshly ground pepper. Coat the lamb on one side with the crust.
6. Pour the sauce in a baking dish and place the lambs on the sauce, the crusted side facing upwards. Drizzle with olive oil.
7. Roast lamb uncovered for half an hour till crust is golden and sauce thickens.
Serve.