Dal Gosht is a delicious and aromatic combination of daal – the vegetarian's delight – and mutton – the non-vegetarian's treat. Dal Gosht has about two known variations – one uses tomatoes and ground daals, the other uses beaten curd and whole daals. While the former is famous in India, the latter is a famous Pakistani recipe. We promise to bring you both. Our first will be dal gosht recipe from Pakistani cuisine.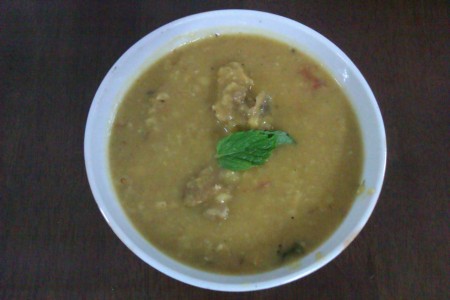 Ingredients:
1 cup chana daal
1/2 cup toor daal
1/2 kg mutton
1 bay leaf
2 cinnamon sticks
4 cardamoms
6 cloves
1 medium sized onion, finely sliced
2 tsp ginger-garlic paste
3 tsp red chilli powder
1/4 cup oil
1 1/2 tsp coriander powder
1 tsp turmeric powder
2 tsp salt
Add a cup of water
1 1/2 cup curd
Spice bag – 2 to 3 tbsp coriander seeds and hand full of curry leaves
1/2 cup chopped coriander leaves
2 green chillies, slit lengthwise and deseeded
Tadka:
2 tbsp oil
2 tbsp freshly crushed garlic
6 whole dried red chillies
1 tbsp cumin
Method:
1. Soak the daals in sufficient water. Heat oil in a vessel. Add bay leaf, cinnamon sticks, cardamom, cloves. Stir briefly.
2. Add onions and fry till they are golden brown. Add the ginger garlic paste and simmer on low heat.
3. Add meat and mix well with a big spoon so that the meat has absorbed the flavours well. Add salt.
4. Add all the spice powders and mix well till oil separates. Now add the beaten curd and stir well for a good ten minutes.
5. Add a cup or two of warm water. Add the spice bag and allow the meat to cook.
6. When the meat is cooked, add daals and whisk well. The daals need not be blended into a paste. Cook until done.
7. When done, add chopped coriander leaves, green chillies, and quarter cup lemon juice. Simmer on low heat.
7. Meanwhile, prepare the tadka. Heat 2 tbsp oil and add crushed garlic.
8. Now add whole red chillies, and cumin seeds. Stir for a few minutes and pour over the cooked daal gosht.
Serve.